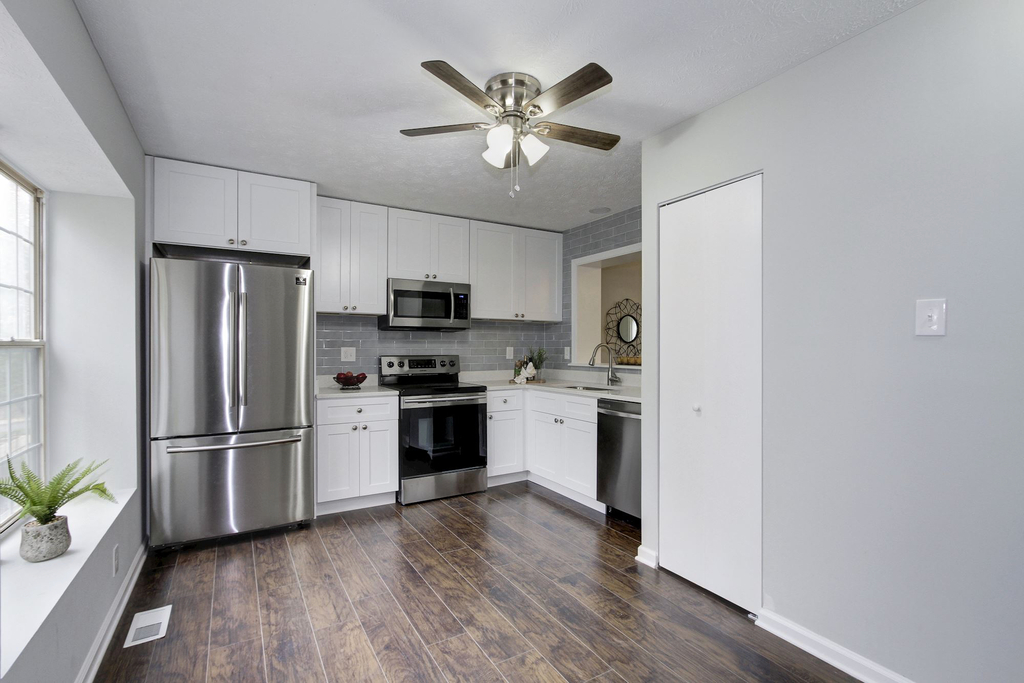 Looking for a new kitchen cabinet paint color? A fresh coat of paint can breathe new life into your cabinets and give your kitchen a completely different look. Whether you have existing cabinets or are adding new ones, your choice of kitchen cabinet colors can really make them stand out.
Of course, not all colors are equal. Colors have varying decorative features, each providing a different kind of mood. In addition, some paint colors can make your kitchen look larger, while others can accentuate separate lighting sources.
The GiGi Homes & Construction team is here to discuss the decorative benefits of different kitchen cabinet colors. We'll talk about some of our favorite shades and how homeowners can choose the right cabinet colors.
1. White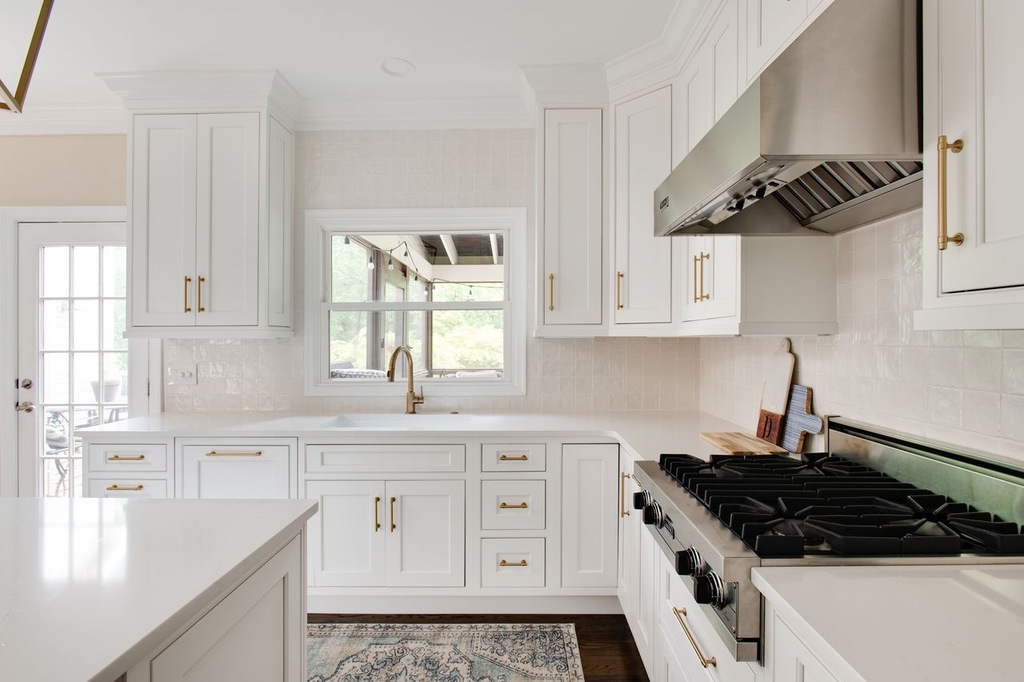 White is the classic cabinet color choice for a few reasons. It looks fresh, reflects natural light, and provides an elegant, classic feel.
White and other light colors work well for smaller kitchens because they make the space look larger and more welcoming. White also pairs well with virtually any cabinet style, so you can use it for a traditional or more modern kitchen.
The main downside of white cabinets is that dirt and stains are more noticeable. If you choose white paint, you'll need to be more diligent about keeping things clean.
2. Blue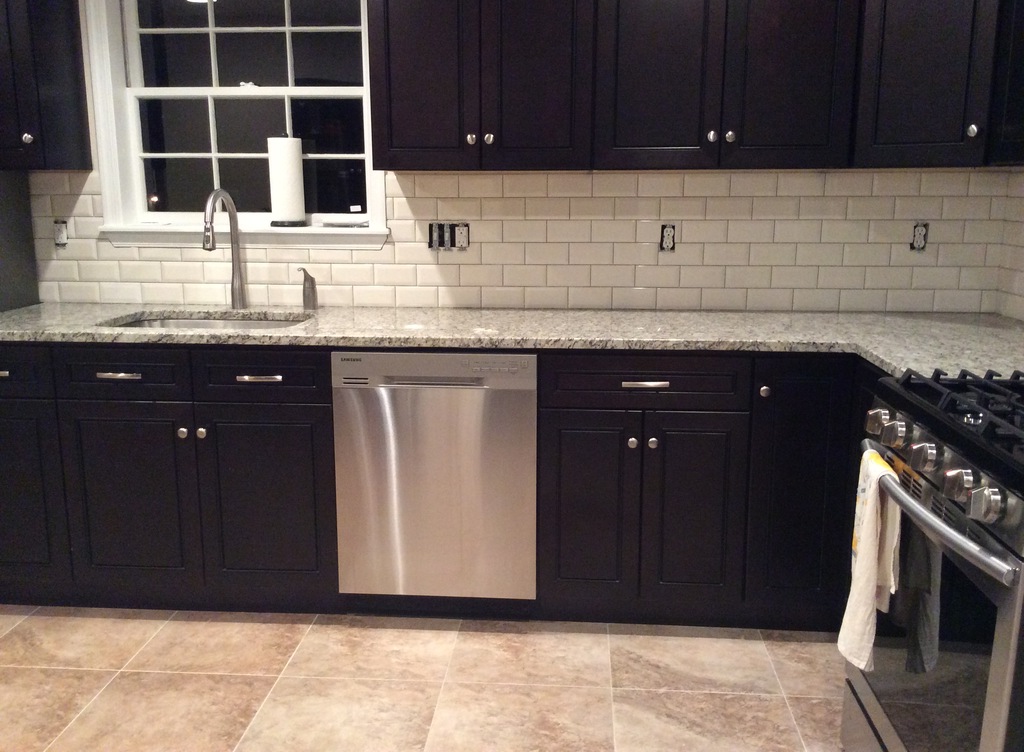 Blue is a perennially popular color for all rooms in a house, including kitchen cabinet colors. Blue kitchen cabinets work best with a traditional-style kitchen, particularly darker blues like navy or ocean blue. Paler blues enhance the space in your kitchen, while darker blues provide a lush, moody feel.
Blue also meshes well with natural light, so south-facing kitchens can get the most out of the interplay of light, color, and space. In general, darker blues are a better choice for larger kitchens and wooden fixtures.
The main downside of blue is it can make a room feel cold when there is less light. However, you can pair blue with other softer colors to make your kitchen feel warmer throughout the day and night. For example, green and gray are two colors that can accent blue cabinets.
3. Gray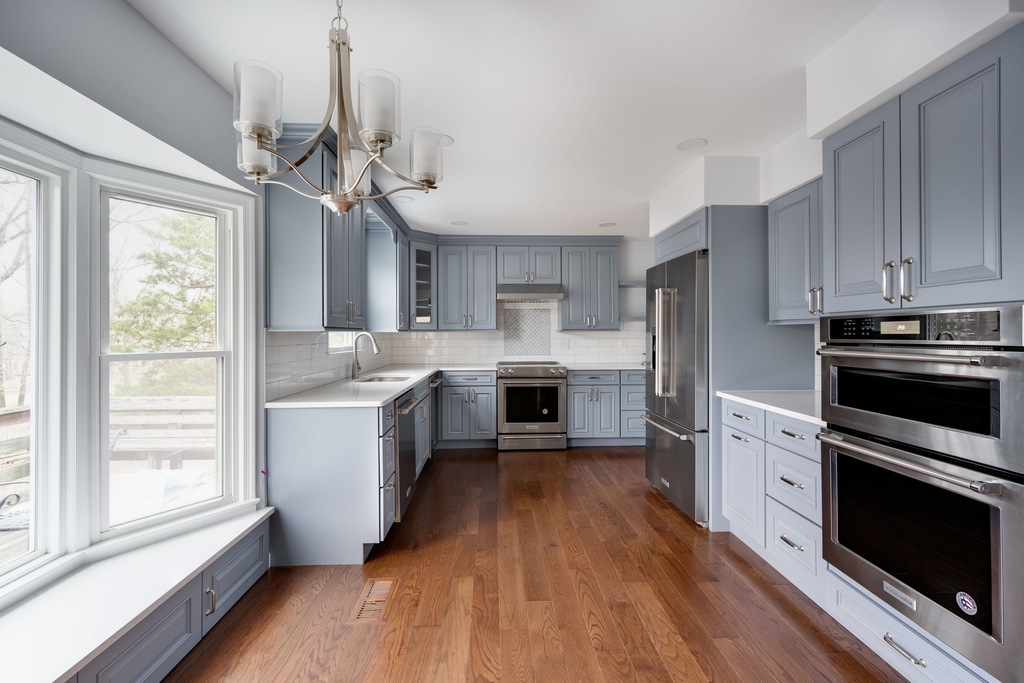 Similar to white, gray is a classic kitchen cabinet color choice that is impressively versatile. A more complex color than it may first appear, shades of gray ranging from white-gray to dark-gray can provide a feeling of lightness or a more dramatic flair. Cool grays typically pair well with modern kitchen aesthetics like white walls, while warmer grays fit a more traditional style.
The tricky part of working with gray is finding the right accessories. If you pick the wrong accentuating colors, your gray cabinets might look drab and muddled.
Contrasting colors like blues and reds for kitchen accessories provide depth and complexity to the color scheme. Gray's reflective properties also make the room feel more spacious.
4. Green
A more off-kilter choice, green is popular among homeowners who want their homes to channel a natural and earthy feeling. Smooth greens like forest green or Castleton green ooze charm and mesh well with natural wood countertops or floors. Green, in particular, is a good choice for rustic farmhouses.
Generally, green works better for larger kitchens, but lighter shades are an option for smaller spaces. Since green is right in the middle of the warm-cool color axis, it is versatile and can mesh with natural light to give the feeling you want.
5. Black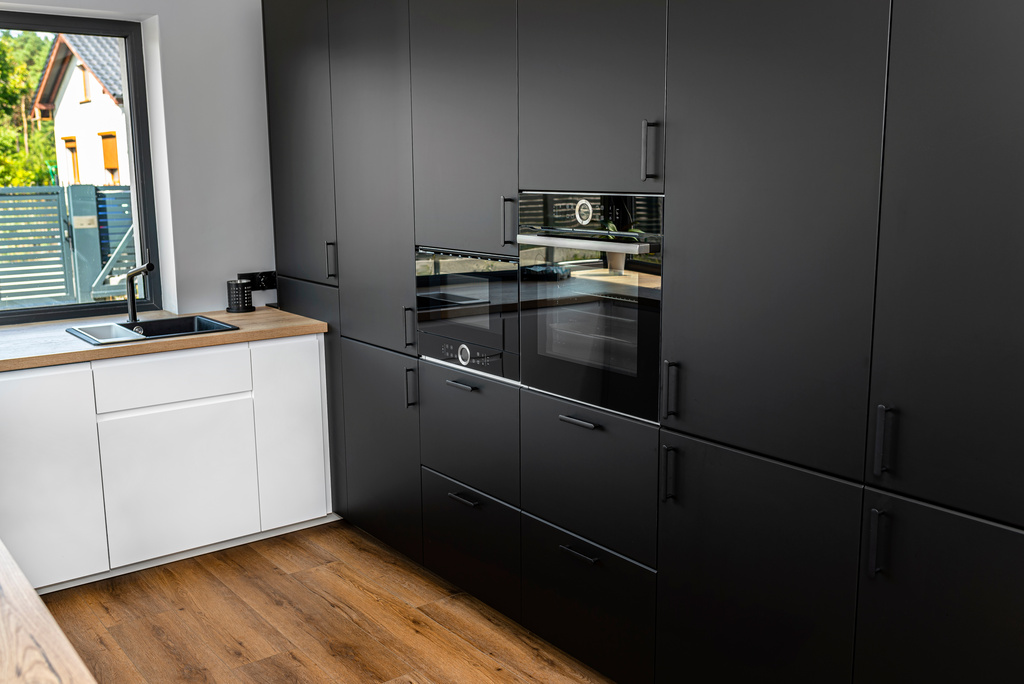 Black can be a difficult color to work with, but when done right, the results can be stunning. Black exudes sophistication and is most at home in modern kitchen designs. Sleek shades of darker blacks can give your kitchen cabinets an edgy, dramatic look without overdoing it.
Since black absorbs light, you'll want to only use the color in a kitchen that gets significant amounts of daylight. You should also avoid vibrant contrasting colors like red or blue, which can look tacky and insincere. Pale accents work best with black, but you don't want too many pale accessories, or your kitchen cabinet colors might look washed out.
6. Red
Another timeless classic, red kitchen cabinets are a perfect choice for traditional homes with a more rustic style. Muted reds work well with bare fixtures and instantly make the room seem more warm and spacious.
Dark reds are typically the go-to choice, but lighter shades of red bordering on pink are highly versatile contenders. Avoid more vibrant reds, as these shades can be a bit overwhelming as kitchen cabinet accents.
Benjamin Moore Vs. Sherwin Williams: Which Paint Is Better?
When choosing between Benjamin Moore or Sherwin Williams paint, either choice works well for cabinets. Benjamin Moore uses its proprietary Gennex blend that is highly durable and contains no volatile organic compounds.
Sherwin Williams paint has excellent shine but lacks the durability Benjamin Moore's Gennex-based paints have. However, either choice will work well for your kitchen cabinets.
How to Choose the Right Colored Cabinets
Below are some tips on how to choose the right colored cabinets:
South and East-facing rooms tend to get the most light throughout the year, so they can handle darker colors.
Generally speaking, lighter colors are better for small kitchens, while darker colors are better for larger kitchens.
Choose kitchen cabinet colors that mesh with your countertops or flooring. For example, black cabinets work well with white quartz countertops, and white kitchen cabinets go well with natural wood countertops.
Ready to Find New Kitchen Cabinet Paint Colors? Contact Us Today!
Our goal at GiGi Homes & Construction is to improve people's lives by improving their homes. Our team excels at going the extra mile to meet and exceed our client's expectations. As a small, family-owned business, we dedicate ourselves to becoming valued members of our community.
If you have any questions about kitchen cabinet colors or want to schedule remodeling services, contact us online by filling out our contact form or call today at (703) 675-7574 to get a quote. We look forward to hearing from you and helping you achieve your dream kitchen!