Kitchen Remodeling in Centreville, Virginia, and surrounding areas
help your kitchen become the masterpiece of your home
Scroll to discover options, process, and pricing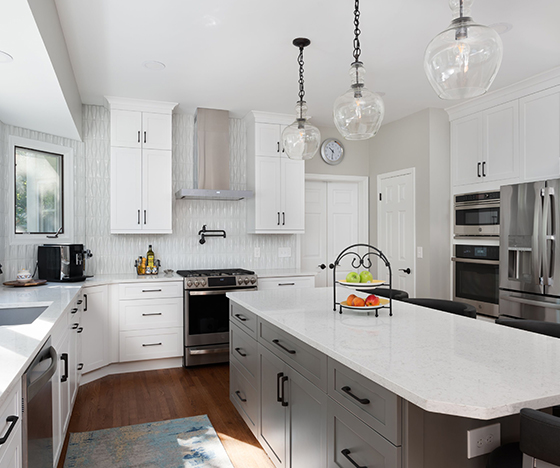 What happens when your kitchen doesn't match your style or needs? 
Most people can barely stand it. Every time they think about cooking they feel their stress and annoyance levels rise. They don't like hosting dinners because cooking is difficult and they're embarrassed by their kitchen.
This is where we come in. Together, we can help your kitchen become incredible. Custom white backsplash and countertops paired with white cabinets for a clean and pure look. Plenty of cabinets for storage and upgraded appliances for easier cooking. Or any other upgrade and style option you want.
Let's give your kitchen a design that'll have everyone's jaws dropping.
Here are some of the most popular kitchen upgrades that homeowners like you are asking for:
a kitchen you enjoy using
When you don't enjoy using your kitchen you start eating out more, don't enjoy your home as much, and stop inviting family and friends over.
It breaks our hearts when we hear stories like this one. Kitchens are the heart of the home and they need to operate as such.
With your kitchen remodeling project, you can add plenty of cabinets for storage, new appliances, better lighting, and more options to make the space function. 
Then you can enjoy having people over, hanging out in the kitchen, and even meal prepping.
Let's create a kitchen you love being in.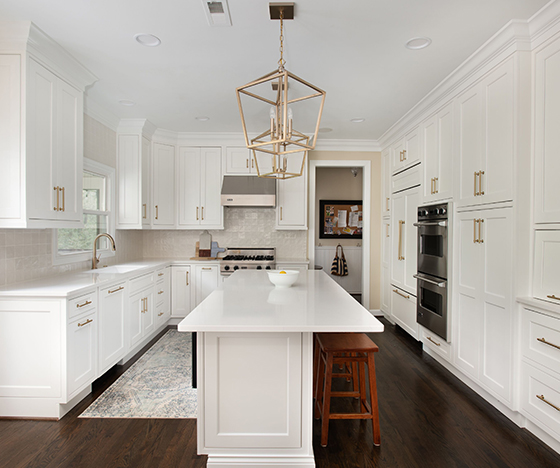 How kitchen remodeling Works
Here is a brief overview of the kitchen remodeling process we use to give all of our clients as smooth experience.

Fill us in on all of your project details on our contact form. We want to know all about your vision for your kitchen and what you need from it.

We start remodeling your kitchen into the area you need it to be. We'll work efficiently and quickly to get it back to you as soon as we can.

Now you and your loved ones can start using and loving your new kitchen. Get ready for your house to feel like home again.
Kitchen Remodeling Prices
You can trust GiGi Homes & Construction to give you a wonderful new space and a fantastic experience. Let's create an exceptional space for your home together.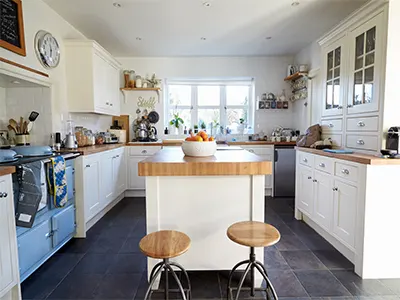 Includes installation of stock kitchen cabinets, new countertops, plumbing fixtures, and a new tile backsplash.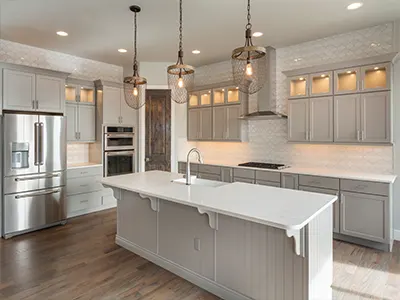 Includes installation of semi-custom cabinets, updated lighting configuration, installation of new appliances, upgraded countertops, and a new tile backsplash. Can include knocking down a wall.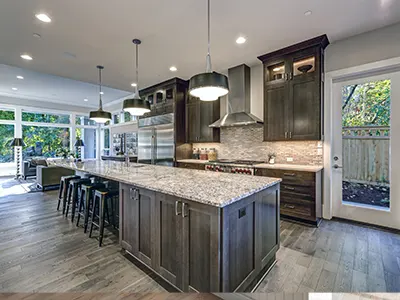 High-End Kitchen Remodel*
Includes a complete layout configuration with custom cabinets, high-grade quartz countertops, premium tile backsplash, and custom lighting configuration. Also includes knocking down a wall.
*Prices are averages and may change depending on the size of your kitchen and your choice of materials, upgrades, and finishes. You'll receive an exact quote for your unique kitchen remodel after the in-home consultation.
Kitchen Remodel Cost Calculator
When you begin planning your kitchen renovation, you should know it's typical to spend between 7-15% of the home's value on remodeling work. If you own a $700,000 home, you can budget between $45K and $70K for your kitchen upgrade without losing too much of its resale value.
Besides the look you want and your favorite appliances, there are multiple factors that go into a full kitchen remodel:
Use our calculators to get a more defined idea of what your kitchen remodeling project will cost. We're here to help make this process both seamless and exciting!
Drag the sliders to adjust your values
What our Remodeling Customers say
The well-being and comfort of you and all of our clients in Centreville, Manassas, and Fairfax, Virginia are our top priority. Read what other happy homeowners have to say about our remodeling services:​
Let's Give You a kitchen you can't wait to be in