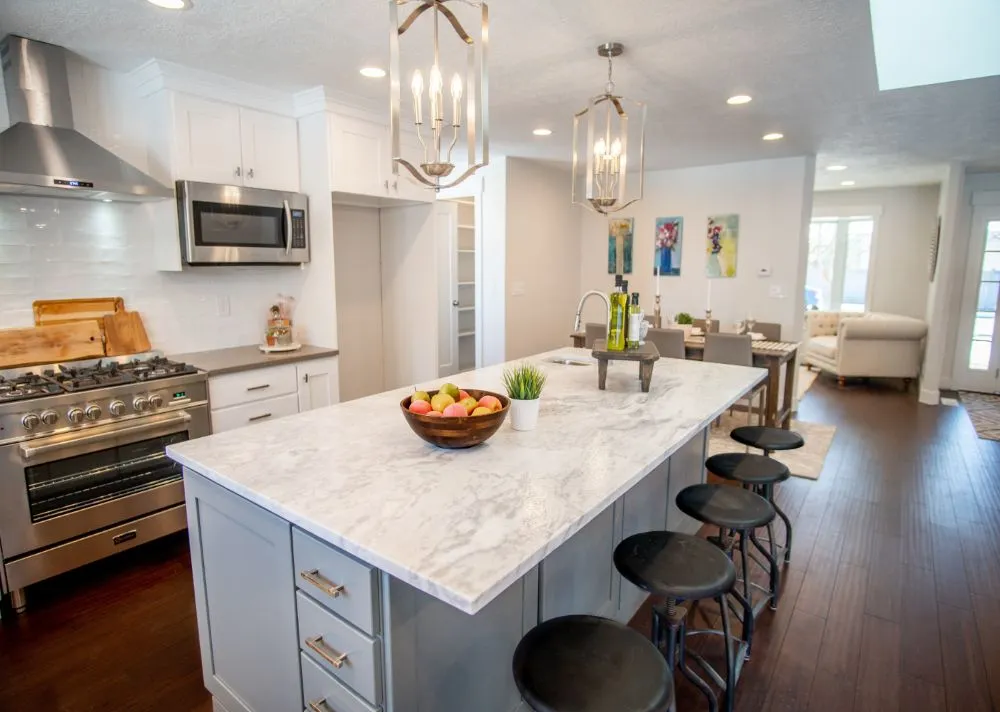 The right kitchen light ideas can transform your room into a work of art.
Fixtures, color schemes, and placement all play together to create a stunning space. Consider these excellent solutions if you are preparing to remodel your kitchen or countertops.
GiGi Homes & Construction put together a list of fantastic kitchen light ideas for your home. You can use it to get ideas on how to best brighten your kitchen while also enhancing its aesthetic.
What to Consider When Choosing Lighting Ideas
Every home is different. That is why you should choose lighting ideas that complement your unique style.
Some homes have large windows that downcast lovely natural lighting, while others rely on interior lights to create cozy environments. Whether you want to improve the look of your kitchen island or dining table, you can take advantage of countless solutions.
Pendant lights, chandeliers, and LEDs are popular choices across the country. These kitchen light ideas work great for both rustic and contemporary homes.
Keep other elements in mind before your next remodel. Consider the style of your countertops, flooring, and backsplash to pick the right lighting fixtures for the kitchen. Also, keep in mind how you use your kitchen and how the light fixtures and brightness can help.
Stunning Light Fixtures
A beautiful light fixture can be a centerpiece of any room. Consider style and function to receive the best result for your remodel. Here are our top picks for stunning kitchen light fixtures.
1. Simple Pendants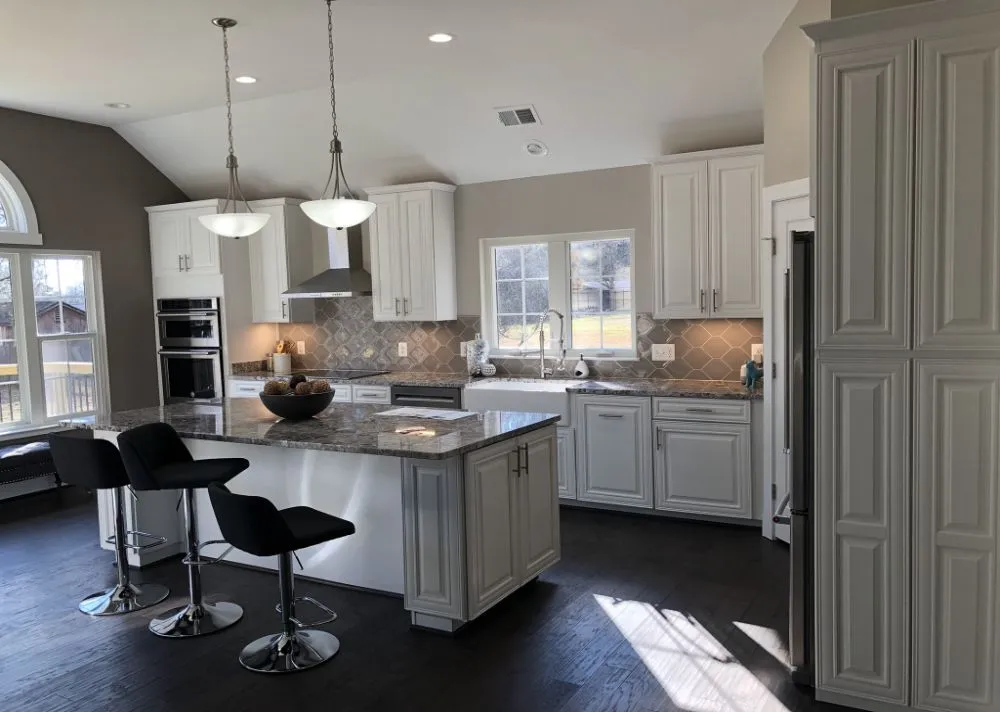 A simple pendant fixture hangs safely from a metal base or a chain.
Single-hanging light pendants provide a simple yet functional look for your kitchen countertop. This solution works with any interior design style you prefer.
With this option, you won't draw too much attention to the feature. Single hanging pendants also provide subtle lighting to enhance the brightness around the kitchen island or table.
2. Recessed Lighting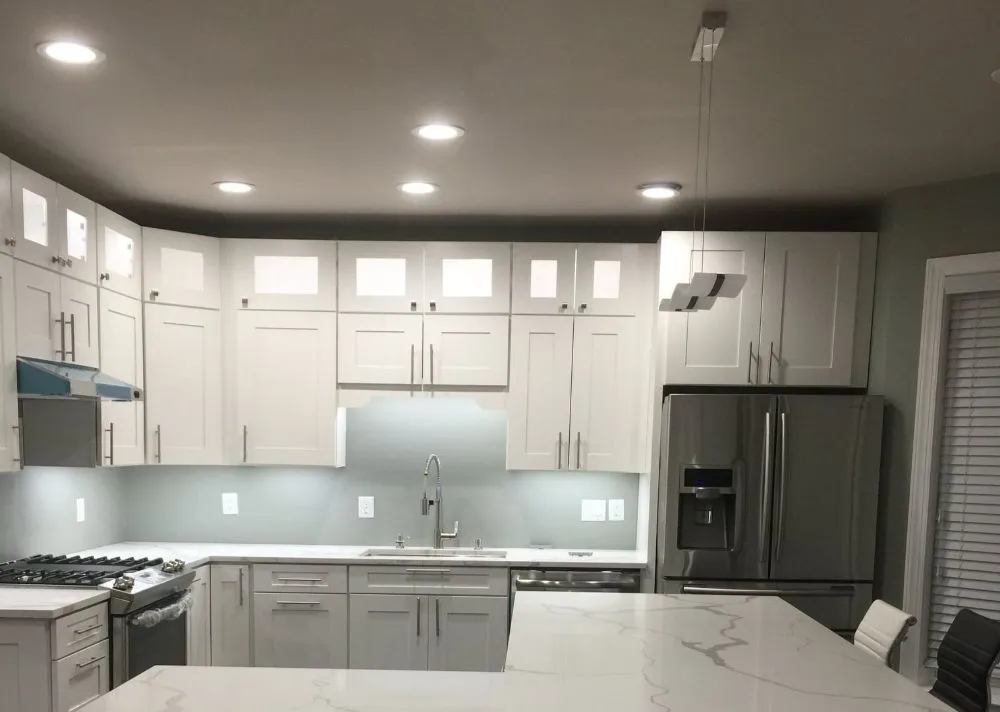 You can illuminate shelves, room textures, and backsplashes by strategically installing recessed lighting. With this option, you avoid gaudy fixtures that distract guests from more interesting kitchen features.
Recessed lighting looks incredible during the evening and night when the sunlight has left the room. This solution emphasizes decorations and other materials in the kitchen that give the room character.
3. Mini-Pendants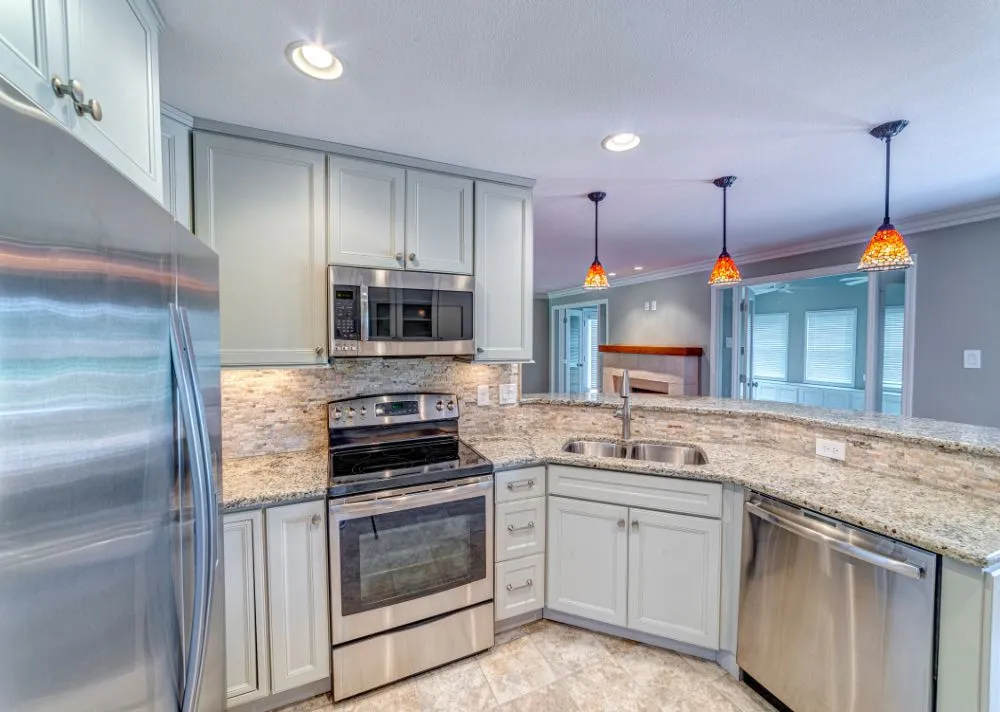 Mini-pendants are excellent installations that you can place throughout the kitchen.
They make great accent lights for tables and countertops. This is one of the more conventional kitchen light ideas that can brighten an entire room.
In addition, mini-pendants don't take up too much space. This can help your kitchen appear more spacious.
You can install smart bulbs that adjust to your desired brightness. With this method, even the smallest light fixture can pack a big punch.
4. Tube Lighting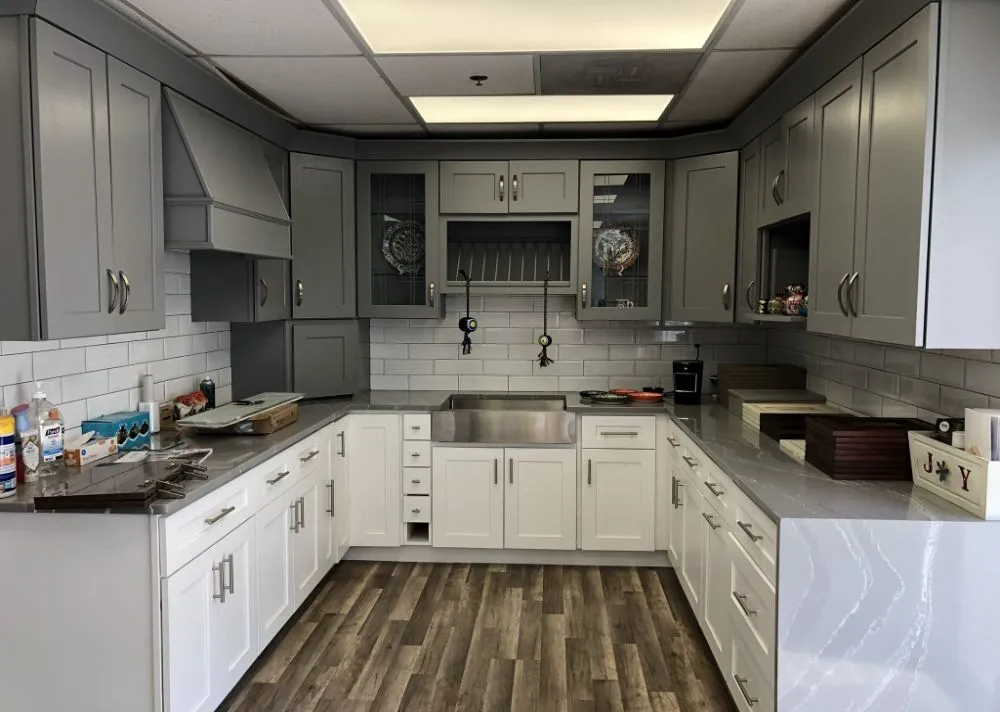 These dramatic metallic and glass tubes are sure to catch the eye.
Tube lighting fixtures are terrific for any individual who prefers a more sculpted and refined centerpiece. We recommend installing these types of lights over your island.
You can enjoy dozens of colors and patterns when shopping for tube lighting. Experiment with the length of these beautiful installations to create the best effect.
5. Glass Orbs
If you are going for the clean and pristine look, glass orb pendants achieve just that.
These lighting fixtures decorate the space with stunning transparent sconces and look great in any size. Install a large bulb to increase room brightness or choose smaller bulbs to emphasize the lamp as a piece of art.
Glass orbs are great for making a statement in an open space or white kitchen.
6. Oversized Fixtures
Who says bigger isn't always better?
Have fun with oversized lighting fixtures to shape the mood of the room. Cones, spheres, and amorphous lampshades can manipulate the space of any kitchen.
These fixtures create illusions that make small spaces appear larger and vice versa. Oversized lamp shades also help distribute the lighting in creative ways. You can use a sconce to guide the light across the kitchen without needing more fixtures.
7. Naked Bulbs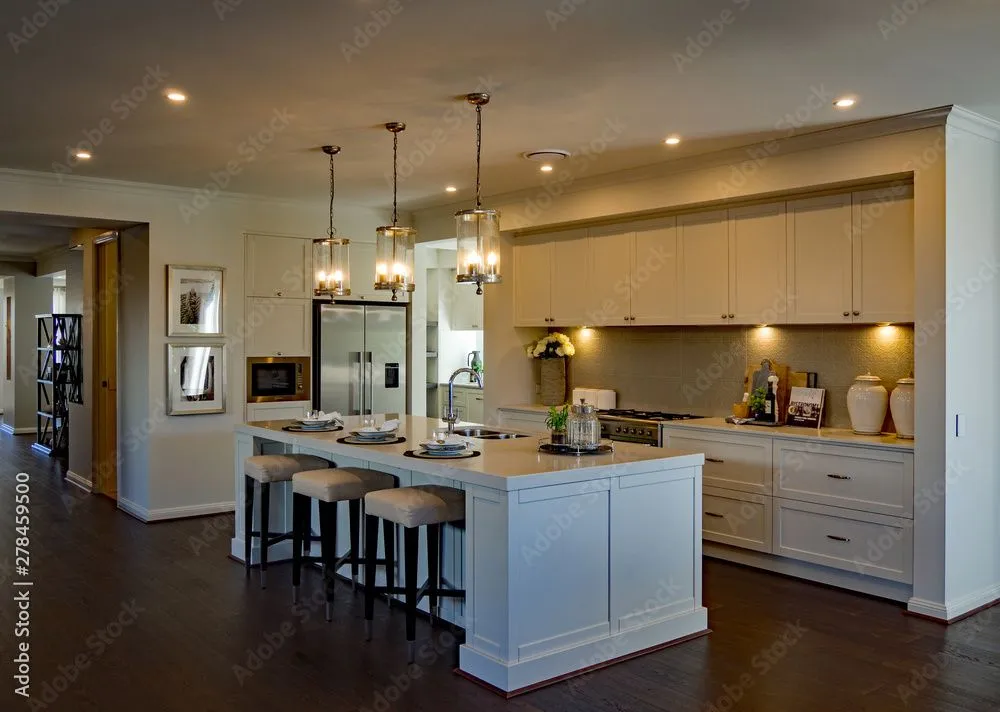 You may not even want a lampshade at all.
There are some kitchen light ideas that involve keeping your light bulbs exposed with these simple pendant and chandelier designs.
Remember to choose a bulb suitable for this option, however. Uncovering bulbs exposes the room to significantly more light. You can shop for low-luminescent lighting that works for this solution.
Naked bulbs add a simple touch to your kitchen design. They look best in a row over your island or countertop.
8. Antique Fixtures
For those who appreciate a more elaborate approach, try antique fixtures.
These classical lighting solutions provide unique designs that add character to your kitchen. Antique fixtures may showcase elements like metal, wood, and glass.
Manufacturers sculpt these lamps to perfection. Due to their unique design, antique fixtures catch the eye and promote a regal look for any room. This option works well with eccentric and maximalist designs.
Those who want to draw attention to the room would benefit from an antique fixture or two.
9. Playful Pendants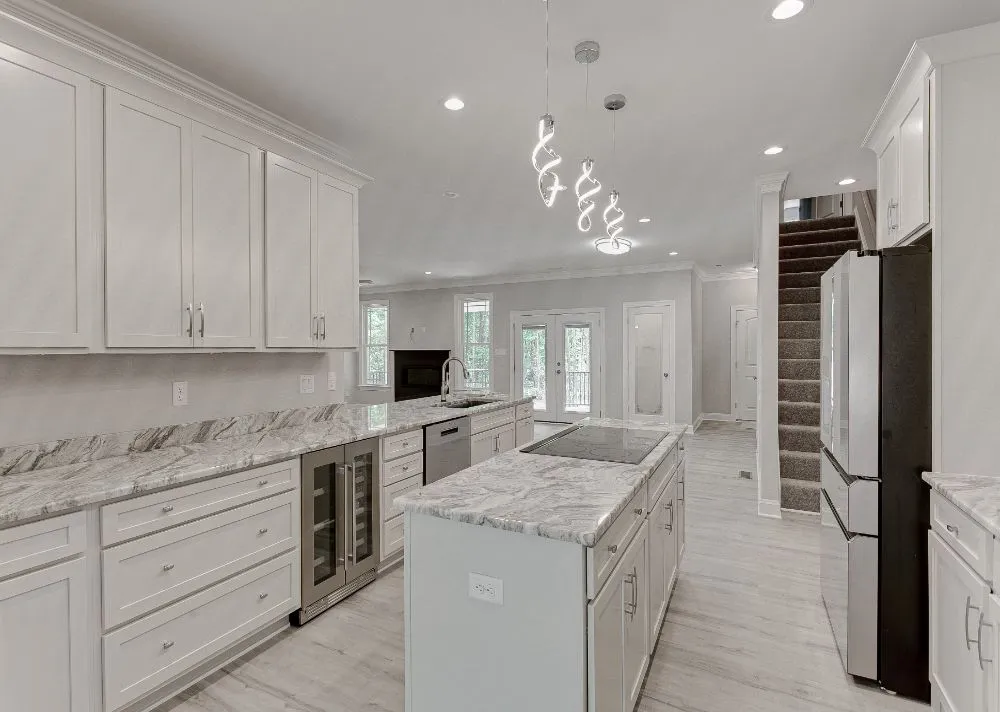 Try these twisting and twirling pendants around the kitchen.
Some modernist kitchen light ideas throw order out the window. People use them to create a sense of playfulness by installing these fixtures above kitchen countertops.
Some of these lamps are adjustable, too. Due to their flexible stems, you can move the lighting toward any corner. Playful pendants may not be the most practical for maximum room lighting, but you can still decorate the kitchen creatively and promote a casual space.
We Make Kitchen Ceiling Lighting Ideas Come to Life
Are you ready to get the kitchen lighting you've always wanted? Our team can bring your kitchen ceiling lighting ideas to life. At GiGi Homes & Construction, we serve the community with excellent design solutions and superior materials.
Our veteran crew of home designers will install the best look for your home. We offer every customer a quote so they can be confident about what they pay.
Fill out our contact form today, and let's talk about your kitchen remodeling plan.