Bathroom Remodeling in Centreville, Virginia, and surrounding areas
Enjoy A spa experience At Home Whenever you want
Scroll to discover options, process, and pricing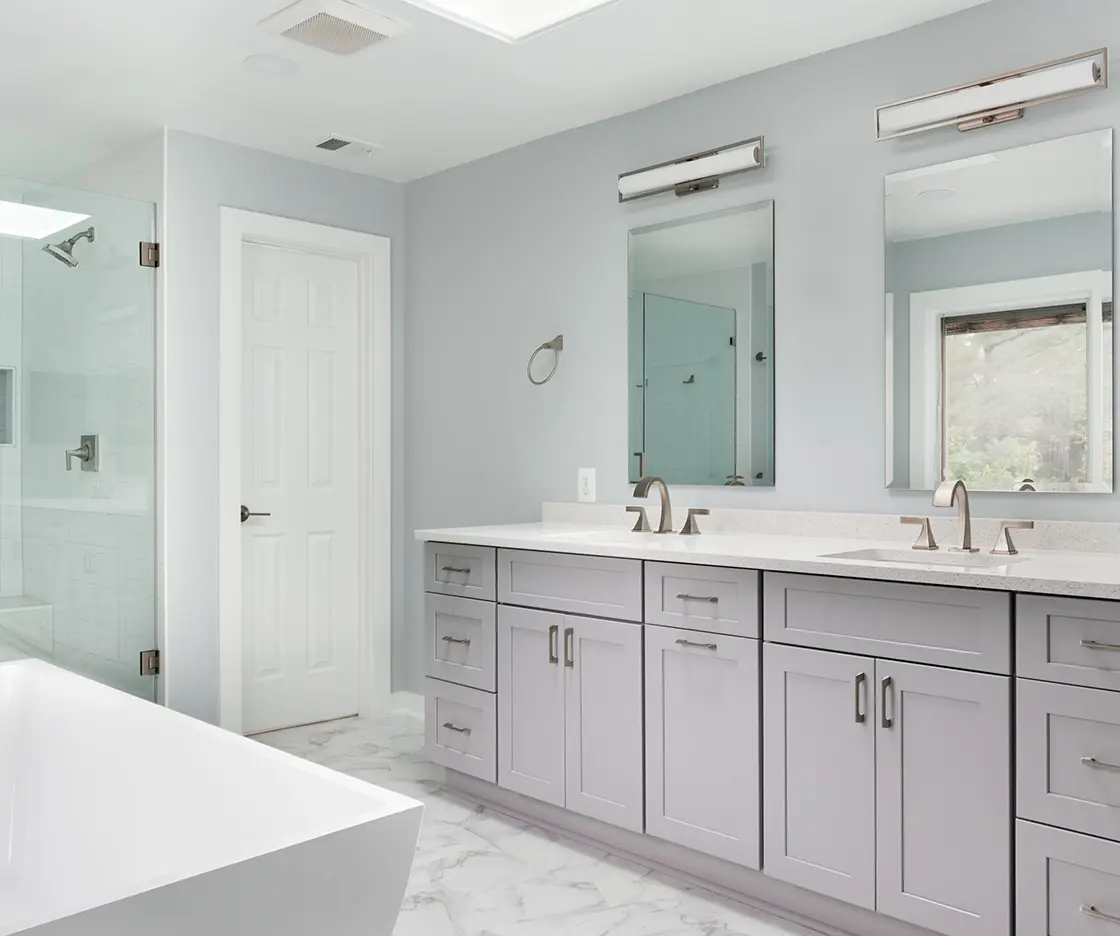 design a bathroom you love
Your bathroom is one of the most used places in your home. So you need this space to be fully functional for you and your family.
Perhaps the current layout is a bit too crowded and overbearing. Maybe it still has older features and an outdated style that doesn't fit your taste anymore. Whatever the reasons, you deserve a bathroom that meets your wants and needs.
Modern, floating vanities can make your bathroom feel spacious and styled. Wash away your stress and worries in a beautiful walk-in shower tiled with your favorite pattern. Walk into a bathroom that makes you feel at peace.
GiGi Homes & Construction is here to help you create a bathroom you love being in.
Here are some of the most popular bathroom upgrades that homeowners like you are asking for:
Enjoy A Daily Soothing Experience
For many people, their bathrooms are just where they go to take care of their basic hygiene. It's a sink, toilet, and bathing area.
Their bathrooms look outdated and are just bare bone essentials, which breaks our hearts.
When you experience a spa-like bathroom, there's no going back. Bathe in a walk-in glass shower in the morning and soak in a tub to unwind at night. Step onto heated tile floors as you start getting ready for the day. Enjoy having enough storage for all of your products.
Let's make your bathroom an experience you can enjoy for years to come.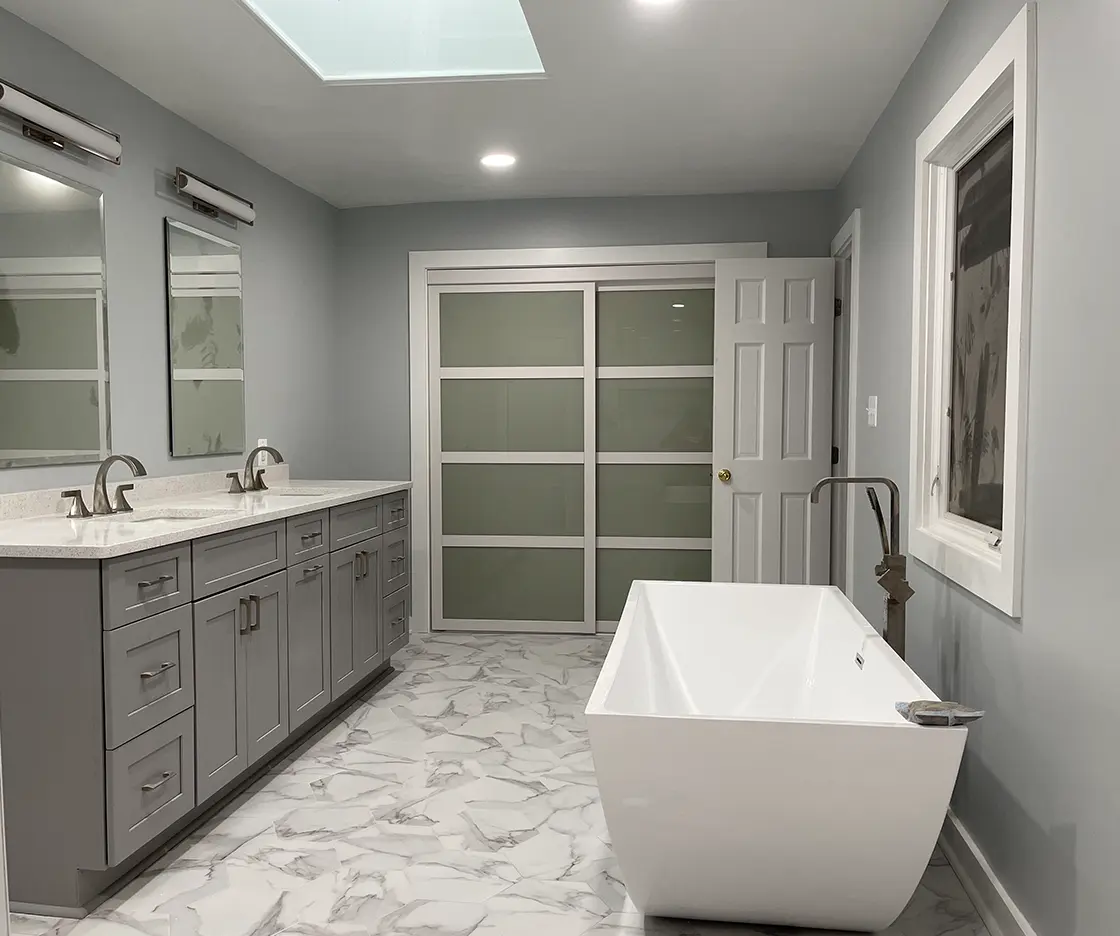 how bathroom remodeling Works
Here is a brief overview of the bathroom remodeling process we use to give all of our clients as smooth experience.

Fill us in on all of your project details on our contact form. We want to know all about your vision for your bathroom.

We start remodeling your bath into the area you need it to be. We'll work efficiently and quickly to get it back to you fast.

Now you and your loved ones can start using your new bathroom. Get ready for your house to feel like home again.
Bathroom Remodeling Prices
You can trust GiGi Homes & Construction to give you a wonderful new space and a fantastic experience. Let's create an exceptional space for your home together.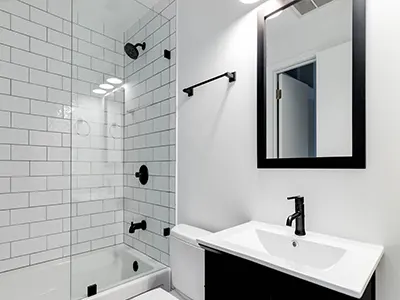 Includes a new tub or tile shower with niche, new stock vanity, updating fixtures, single sink faucet, new mirror, and a fresh paint job for a hall bathroom.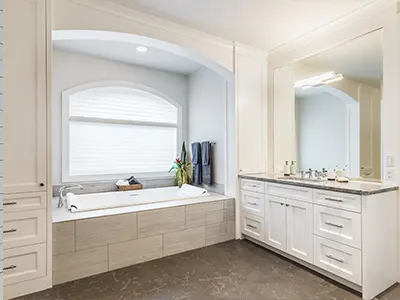 Average Bathroom Remodel*
Includes an upgraded tub or tile shower with niche, new vanity with a single faucet, toilet, floor tile, bathroom mirror, a full paint job, minor layout change, semi-frameless glass enclosure, and minor plumbing work.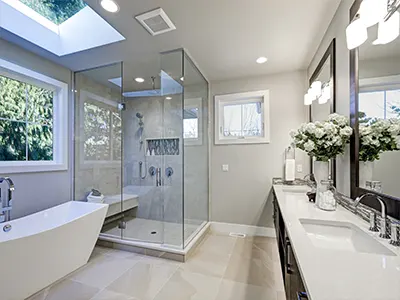 High-End Bathroom Remodel*
Includes installation of a custom tile shower with a frameless glass enclosure, a body spray shower, a freestanding tub, reconfiguration of the lighting and plumbing scheme, and installation of premium dual vanities.
*Prices are averages and may change depending on the size of your bathroom and your choice of materials, upgrades, and finishes. You'll receive an exact quote for your unique bathroom remodel after the in-home consultation.
Bathroom Remodel Cost Calculator
Let's start thinking about the budget for your remodel: it's common practice to spend between 5-10% of the home's value for a bathroom remodeling project. This means if you have a $700K home, you can plan to spend anywhere between $30K and $70K on your bathroom project.
Besides the overall look you're trying to achieve for your space, there are multiple factors that go into a full bathroom remodel:
Use our calculators to get a more defined idea of what your kitchen remodeling project will cost. We're here to help make this process both seamless and exciting!
Drag the sliders to adjust your values
What our Remodeling Customers say
The well-being and comfort of you and all of our clients in Centreville, Manassas, and Fairfax, Virginia are our top priority. Read what other happy homeowners have to say about our remodeling services:​
enjoy a Daily spa experience With A Bathroom Remodel