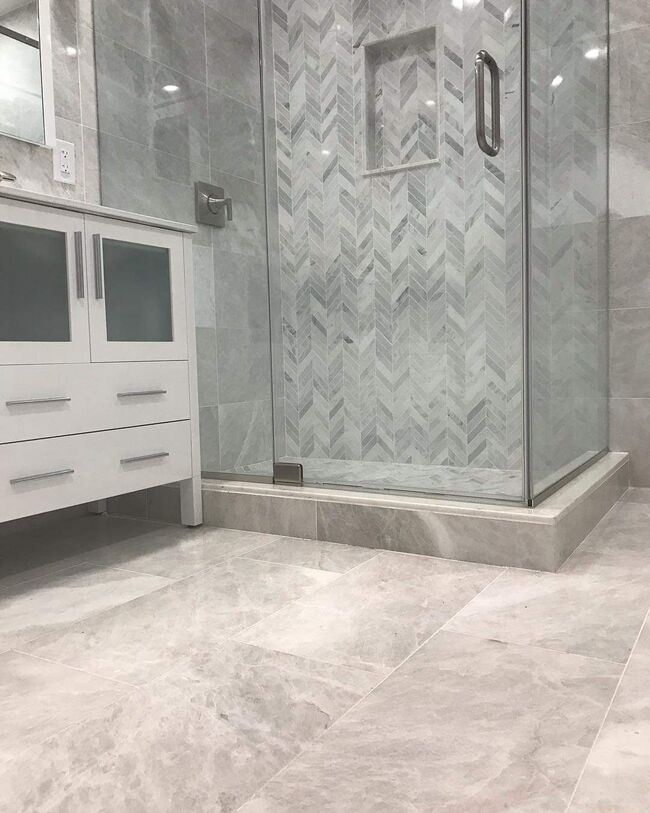 For homeowners looking to update or change their properties, renovation offers a scalable and customizable solution. Many homeowners hesitate to pursue home renovation projects due to budget or time concerns. However, making progressive changes is not only less overwhelming but also more affordable.
At GiGI Homes and Construction, we help you build the home of your dreams. We work with homeowners to create obtainable design goals that suit any budget or time frame goals. We believe our clients should realize their dream home, and we provide the services to make it happen.
This blog will discuss what homeowners should know about bathroom flooring before making design and purchase decisions. Next, we'll highlight some beautiful bathroom flooring ideas to inspire you and get you started.
To learn more about our bathroom design process, browse our website or contact us today using our convenient online contact form.
Benefits of Redoing Your Bathroom Floor
When deciding which room elements to redesign, most property owners consider things like walls, furniture, or even window treatments. While changing these elements can bring new life to a room, they only achieve as much as the infrastructure allows. For example, even a gorgeous coat of paint might look dingy next to cracked tile or stained wood.
Choosing new flooring for your bath and shower gives homeowners an entirely new foundation from which to build their design schemes. Furthermore, redoing your bathroom floor offers benefits, such as:
● Elimination of cracks, stains, and other damage
● Option to upgrade to more durable flooring
● Improved overall aesthetic
● Boosted home value
To learn all the benefits of a new bathroom floor, talk to the experts at GiGi Homes and Construction today.
Factors to Consider When Choosing a Bathroom Flooring Option
Many homeowners shy away from home renovation projects. They may feel overwhelmed by the number of decisions they must make throughout the design process.
However, don't be intimidated by improving your home's interior. Read on for everything you need to know about bathroom flooring to maximize your design and material purchases.
Visualize Your Design Goals
When most people approach a home renovation project, they begin with a vision. Getting a solid mental picture of the kind of bathroom you want is the best foundation for your renovation.
What do you see when you picture your ideal bath and shower space? Do you imagine a colorful oasis with bright mosaic tiles or a calming room with gentle wood accents and vibrant plants? What kind of floors do you see in these spaces?
Once you have answers to your design questions, it's time to start looking for materials.
Water Resistance
One essential aspect to consider about your flooring choices is water resistance. Depending on where you place your flooring, you may need increased water resistance to protect your floors.
When choosing flooring for in-shower spaces, choose materials with high water resistance. Such materials include tiles and natural stone. Avoid cork or unsealed options like laminate, which may be more suitable for out-of-shower flooring.
Familiarize Yourself with Flooring Types
Now you've established your design goals and determined the level of water resistance required. It's time to learn about the available flooring types to make the best decision for your needs. Depending on your sources, you may find various options to choose from, including:
● Vinyl
● Laminate
● Ceramic tiles
● Hardwood
● Cork
● Linoleum
● Bamboo
Know Your Flooring Budget
Before making final decisions about flooring and renovation components, consider your budget. If you plan on remodeling your entire bathroom, ensure that your flooring budget doesn't cut into your budget for other elements. These other materials may include paints, furniture, and fixtures.
For homeowners facing tight budgets, start with one element of your bathroom and make a budget for that component. This way, you reduce your remodeling costs while still taking steps toward your goal.
Part of your flooring budget may include services such as old flooring removal or installation. Before trying a flooring remodel project on your own, weigh the pros and cons of attempting these tasks yourself. In most cases, you'll probably find it safer and more affordable to hire professionals who can get the job done.
5 Bathroom Flooring Ideas for Gorgeous Bathroom Designs
Have you reviewed your budget needs and material options but still unsure about your design goals? Below, you'll find some bathroom flooring ideas to jumpstart your creativity. The below guide will help you find your perfect bathroom look.
#1: The Natural Wood Look
Many homeowners look for bathroom flooring ideas to create a calming, relaxing atmosphere in their shower or bath spaces. One easy option comes in the form of a natural wood look.
Use engineered hardwood for out-of-shower spaces. You can choose tropical woods like teak for slip-resistant in-shower wood flooring options.
#2: Decadent Marble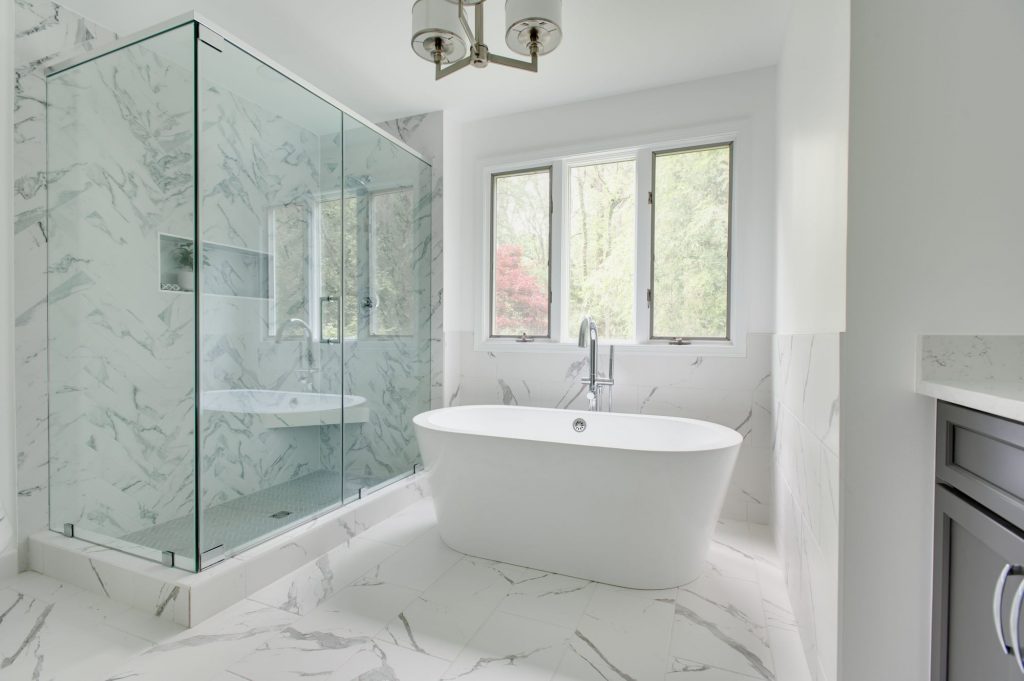 Are you looking to bathe in the lap of luxury? Place richly marbled bathroom floor tiles in your shower. A more budget-friendly option is concrete engineered to mimic marble.
#3: Bold Patterns
Make a statement with your bathroom flooring by choosing black and white floor patterns inside or outside your shower. Choose from stenciled porcelain tiles or laminate flooring printed with stylish designs.
#4: Herringbone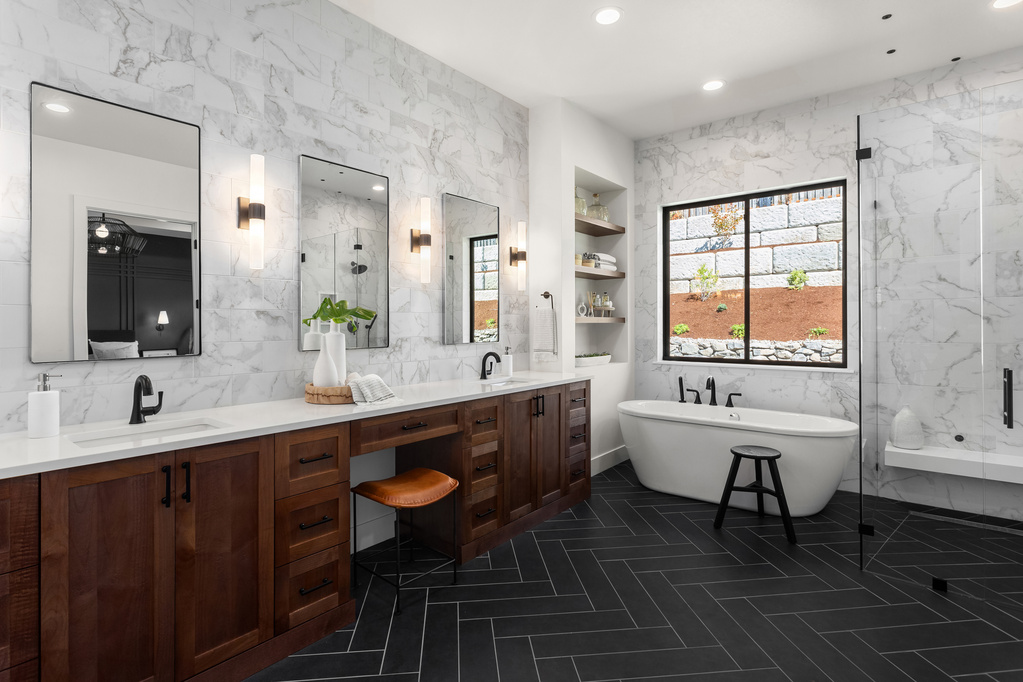 Accentuate basic bathroom features and give your bathroom a spa feel by installing a tile floor in a herringbone pattern. Choose simple stone tiles or ash wood laminate for an earthy but refined result.
#5: Natural Stone
To turn your bathroom into a natural oasis, tile your bath and shower spaces with natural-looking stone. Pair this material with natural wood accents and high-humidity plants to complete the atmosphere.
Create Your Dream Home with GiGi Homes and Construction
Still need bathroom flooring ideas? Let the experts at GiGi Homes and Construction help you narrow down your design goals and bring your dream bathroom to life.
Fill out our contact form today to start your journey to a bathroom remodel with GiGi Homes and Construction. We proudly serve the Centreville, Chantilly, Ashburn, Sterling, and Leesburg, VA, areas.