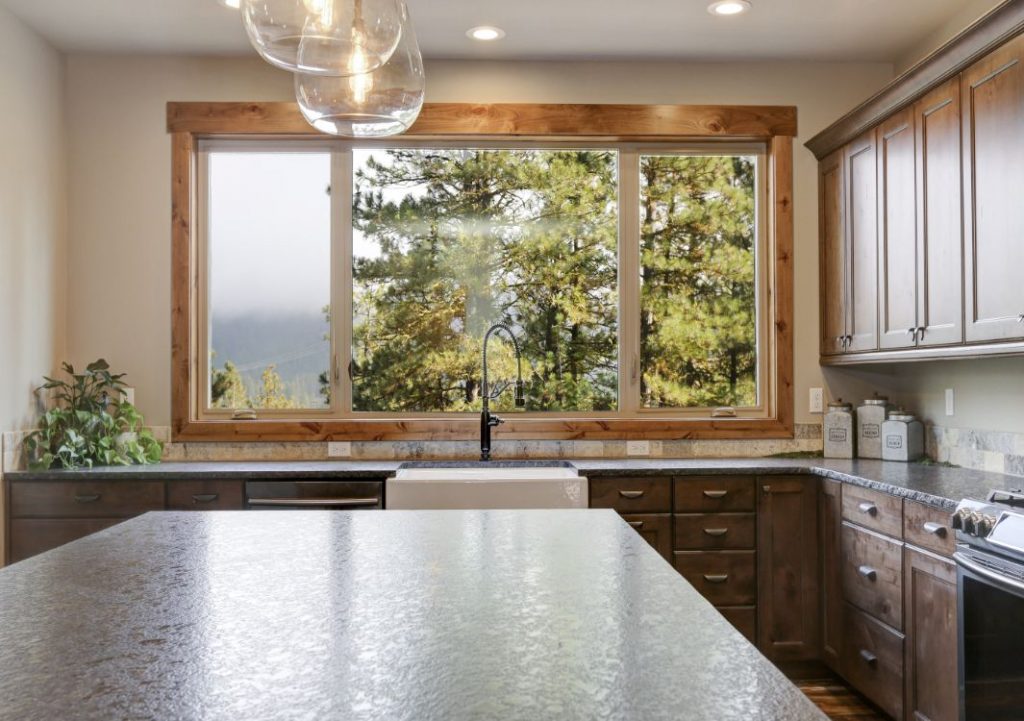 Your kitchen is not only the most functional space in your home, but it is also where love, laughter, and good times flourish. From dinner parties to solitary cups of coffee, everything starts in the kitchen or dining room. These spaces truly are the heart of the home.
That's why your kitchen design should be unique and inviting. Kitchen windows are a huge part of what makes your kitchen shine, so choosing the right ones is essential.
Why Do Kitchen Windows Matter?
Kitchen and dining room windows bring in natural light and fresh air, making a space feel larger and more inviting. Because you, your family, and even your guests spend so much time in the kitchen, you'll want it to feel open and inviting.
New windows can transform your kitchen. Whether you want to bring in more light, create a unique design piece, or just give yourself a beautiful view to take in a while working over the kitchen sink, there are so many ways a window can bring your kitchen and dining space to life. And with more natural light, you could even save on your energy bill.
Since there is often a countertop between you and your kitchen windows, it's essential to choose styles that are easy to open. We recommend picking windows that you can open with just one hand.
Kitchen Window Ideas for Your Dining Space
There are so many kitchen window ideas out there, and it can be hard to choose from the millions of images you see on social media. Ultimately, you should choose one that feels like you and provides what you're looking for in your space.
Here are some of the best styles of kitchen windows to enhance your kitchen and dining space.
Sliding Windows
The great thing about adding sliding windows to your home kitchen and or dining area is that they can work in any space. Add them over your kitchen sink or counters to get a beautiful view while cooking or cleaning. Since they are easy to open and close, sliding windows also make for excellent air circulation, especially with the addition of screens to keep out bugs.
Sliding windows can be installed anywhere in the kitchen or dining area, but they are most functional over the sink or counters. They also work well near the dining table for more air and light.
Double-Hung Windows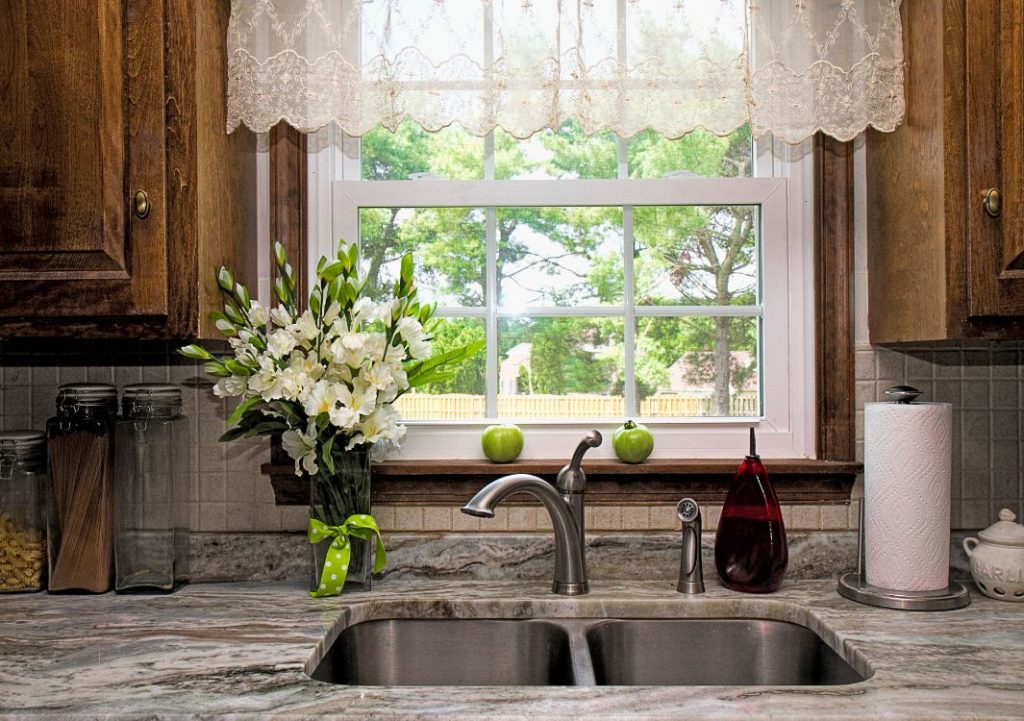 Double-hung windows are the most common type of window you will see in a house, featuring two panes atop one another, with the bottom pane sliding up to open. Like sliding windows, double-hung windows are great for controlling air circulation and are functional in multiple kitchens and dining spaces. These windows are ideal if you have children, as they are more challenging to unlock and open for small hands.
Double-hung windows are great additions to farmhouse-style kitchens and dining rooms. They offer a more traditional style and are practical for families. Adding them to your dining space will allow more airflow and light as you entertain guests or enjoy coffee. Many double-hung windows can open from the top or the bottom for added flexibility.
Garden Window
If you love growing herbs or having plants in your house, a garden window is just what you need. A garden window extends past the wall of your home and provides extra space for plants or to display knick-knacks. It's like a tiny greenhouse in your home. These windows are ideal to use over the kitchen sink or near the dining room.
Garden windows are ideal for plant lovers or a kitchen where there is not much room for decorations. They can also make a unique addition to your dining space or breakfast nook.
Casement Window
Casement windows are popular to put above the kitchen sink, as they are easy to open and are very stylish. They open outwards with a crank, making it easy to control how much or how little air passes through your kitchen or dining area. They also work well in a breakfast nook or bar area.
Casement windows are another popular farmhouse kitchen piece. They are perfect in your dining space as they are easy to open, allow plenty of control over airflow, and allow a lot of natural light.
Patio Doors
If you have the space for it, patio doors are a versatile option for windows. They are like sliding windows, but larger – and you can walk through them. Patio doors let in a lot more light and air than other windows and offer a way to step outside. These windows are great for kitchen and dining areas that are adjacent to a deck, patio, or another area of the backyard.
Patio doors are usually closer to the dining area, but they can be a great addition to the kitchen as another exit or focal piece.
Bay Windows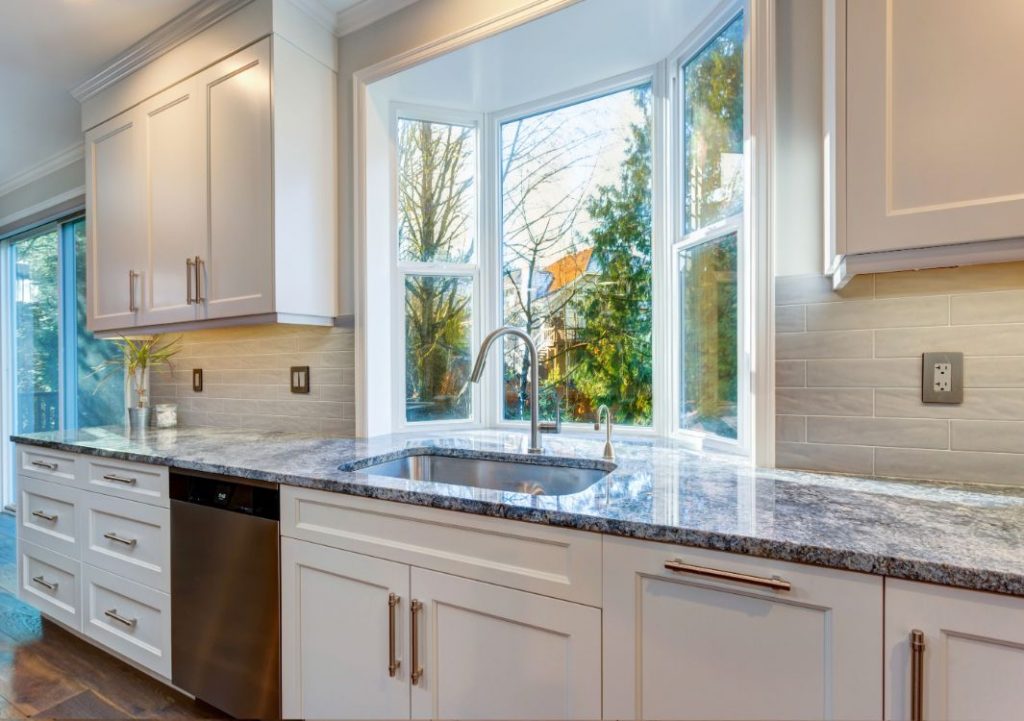 When you think of bay windows, you might typically think of a big window in the living room where the Christmas tree can shine. But they can create a wonderful space in the kitchen as well. Bay windows act like a double-hung window and a garden window combined, as they offer so much natural light, fresh air, and extra space on the windowsill for plants, knick-knacks, and other décor.
In the kitchen space, bay windows are often placed over the sink. If they are big enough, the sill can be turned into a sitting area for a breakfast nook or additional dining space.
Remodeling Your Kitchen or Dining Space? Call Gigi Homes and Construction
At Gigi Homes and Construction, we understand how central your home's kitchen and dining areas are to your family. We will create a dining or kitchen space where you can thrive, complete with the perfect kitchen windows of your choice.
Work with the best – we proudly serve the Centreville, Chantilly, Ashburn, Sterling, and Leesburg, VA, areas. Learn more about how we can make the kitchen and dining space of your dreams by filling out our contact form today.