Are you tired of your outdated bathroom? Does it feel like it's time for a change? If so, don't worry – redesigning your bathroom doesn't have to be expensive. In fact, we can give you a guide to how much bathroom installation costs. All you need is a bit of inspiration and the will to get started. So, let's take a look at some tips for redesigning your budget bathroom makeover!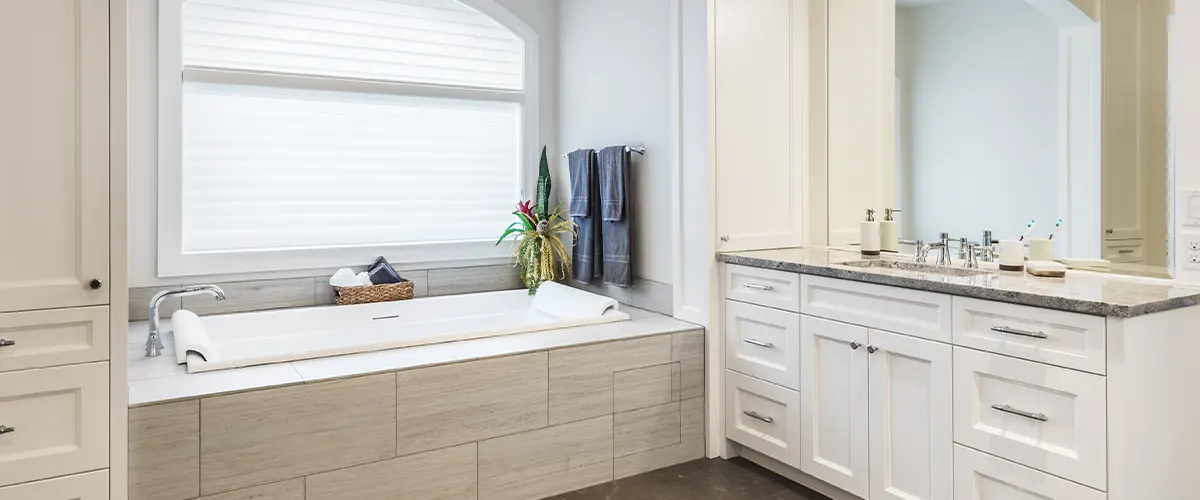 The Benefits of Redesigning Your Bathroom
A bathroom redesign can be a big project, but the benefits are well worth it. Not only will you end up with a beautyful new space, but you'll also see a return on your investment when you sell your home. In addition, a bathroom redesign can make your daily life much easier and more pleasant.
From bathroom lighting and bathroom walls to your bathroom floor plan and overall bathroom layout, you can create the space of your dreams. Turning your existing bathroom with the help of an interior designer or professional contractor can have plenty of benefits. Keep reading to learn more about why you need to think of redesigning your bathroom and how your bathroom design ideas can turn a tight space into the focal point of your home.
One of the biggest benefits of redesigned bathrooms is that they can increase the value of your home. If you're planning on selling in the near future, a high-quality bathroom redesign can be a great way to boost your asking price. Even if you're not planning on selling anytime soon, a redesigned bathroom can still add value to your home.
Another great reason to consider a bathroom redesign is that it can greatly improve the functionality of the space. If you're not happy with the layout of your current bathroom, or if you feel like it doesn't function as well as it could, then a redesign is definitely in order. A professional designer will be able to come up with a layout that works better for your needs and makes better use of the space.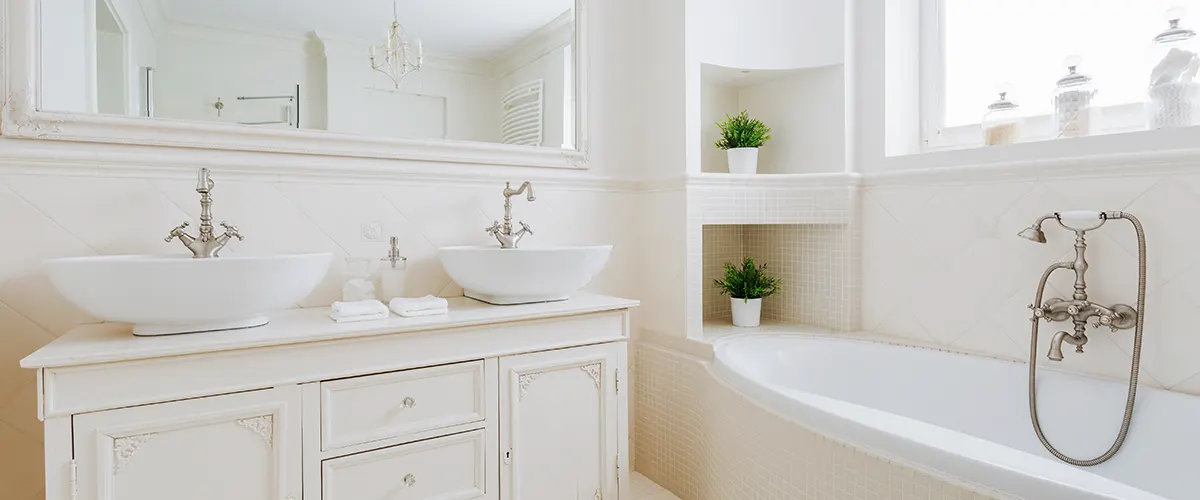 Storage is always at a premium in bathrooms, so it's important to make sure that yours has ample storage options. During a bathroom redesign, you'll be able to add new storage solutions that are tailored to your specific needs. Whether you need more cabinets, shelves, or simply some better organizational solutions, a redesign will give you the chance to add them.
How to Redesign Your Bathroom on a Budget
A bathroom redesign can be a big undertaking, both in terms of time and money. If you're on a tight budget, it's important to be strategic about your design choices so that you can create the bathroom of your dreams without breaking the bank. In this blog post, we'll share some tips on how to do just that.
1. Choose affordable materials.
When it comes to materials, it's important to strike a balance between quality and price. You don't want to skimp on quality too much, as that could lead to problems down the line (e.g., tiles falling off the wall or water damage). However, there are plenty of affordable options out there that will still look great and last for years. For example, laminate countertops can mimic the look of more expensive materials like stone without a high price tag.
2. Do some of the work yourself.
If you're handy around the house, there are some bathroom renovation tasks that you can take on yourself in order to save money. For example, painting is a relatively simple task that can make a big impact in terms of aesthetics.
If you're planning on doing any tile work, it's also worth considering whether you're comfortable taking on that task yourself; if so, you can significant money by forgoing professional installation fees. Installing a lighting scheme can prove easier than doing your wall tile or installing a shower enclosure with glass doors. So weigh every aspect of the renovation and see where you can contribute yourself.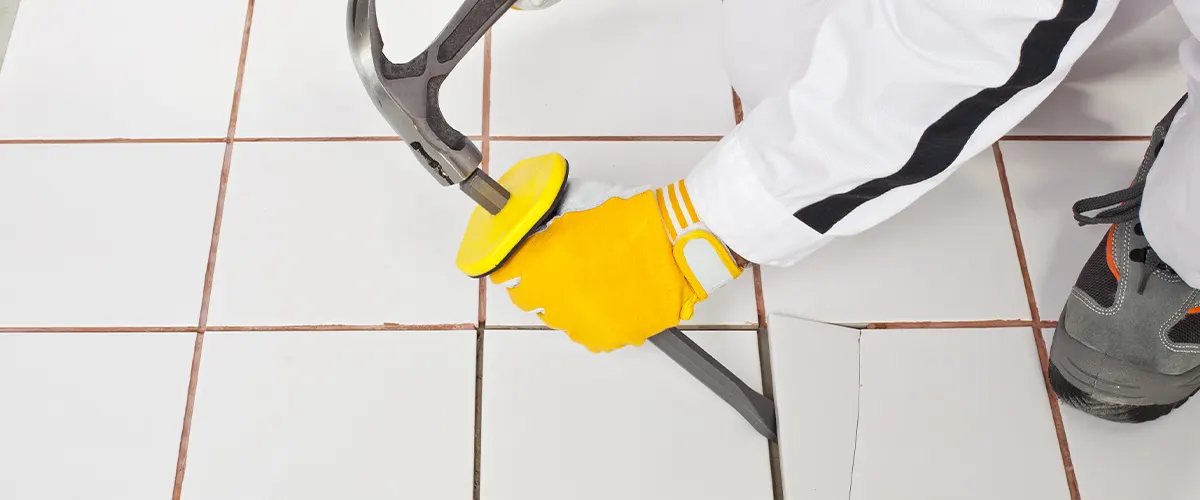 3. Be strategic about timing.
Home improvement stores often have sales throughout the year, so it pays to be strategic about when you make your purchases. Many stores also offer special discounts for cardholders, so if you have one, be sure to use it. Also, keep in mind that certain materials may be more expensive during certain seasons. For example, tile is typically cheaper in the springtime than it is during the winter months. By being mindful of these factors, you can save yourself some money.
4. Stay within your means.
It's easy to get caught up in the excitement of a bathroom redesign and start making choices that are outside of your budget. However, it's important to remain mindful of your limits so that you don't end up overspending. One way to do this is by setting a firm budget at the outset and then sticking to it no matter what. Additionally, it can be helpful to leave some wiggle room in your budget in case you come across an unexpected expense.
5. Shop around for deals.
When it comes time to make purchases for your bathroom redesign, take some time to shop around for deals. Compare prices at different stores before making any decisions, and don't forget to check online retailers as well—you might be able to find what you're looking for at a fraction of the price. 
Additionally, consider shopping secondhand; many times, people are getting rid of perfectly good items such as a shower curtain or ceiling lights, simply because they're upgrading their own homes, which means you could score a great deal on gently used fixtures or materials.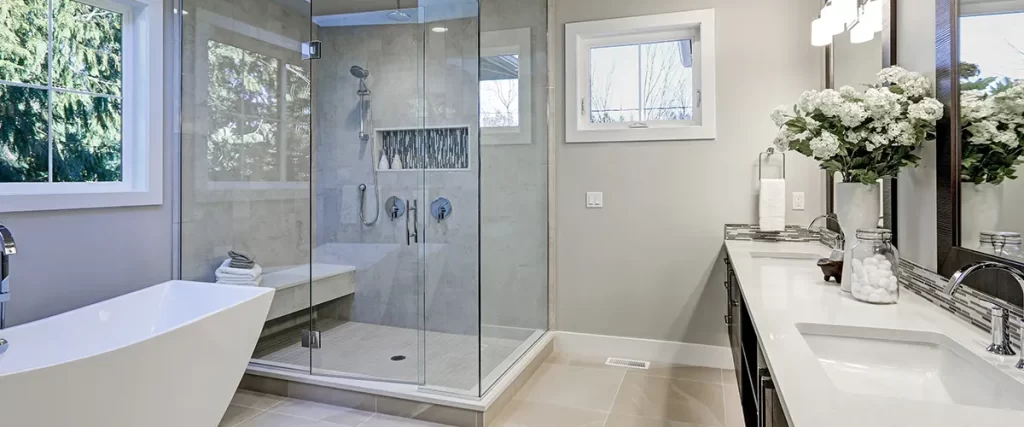 So, whether you're just starting to plan your bathroom remodel or are already in the middle of it, be sure to keep these tips in mind. They'll help make the process smoother and ensure that you end up with a bathroom you love. And if you need any assistance along the way, our team is here to help. Contact us today for more information on our services!