If you're looking for a way to brighten up your bathroom, lighting is the answer. There are many different types of lighting that can be used in a bathroom, from ceiling lights to wall sconces. In this blog post, we will explore some of the best lighting for bathrooms options and provide inspiration for your own space. So whether you're looking for a way to make your bathroom feel more spacious or want to add a touch of glamour, read on!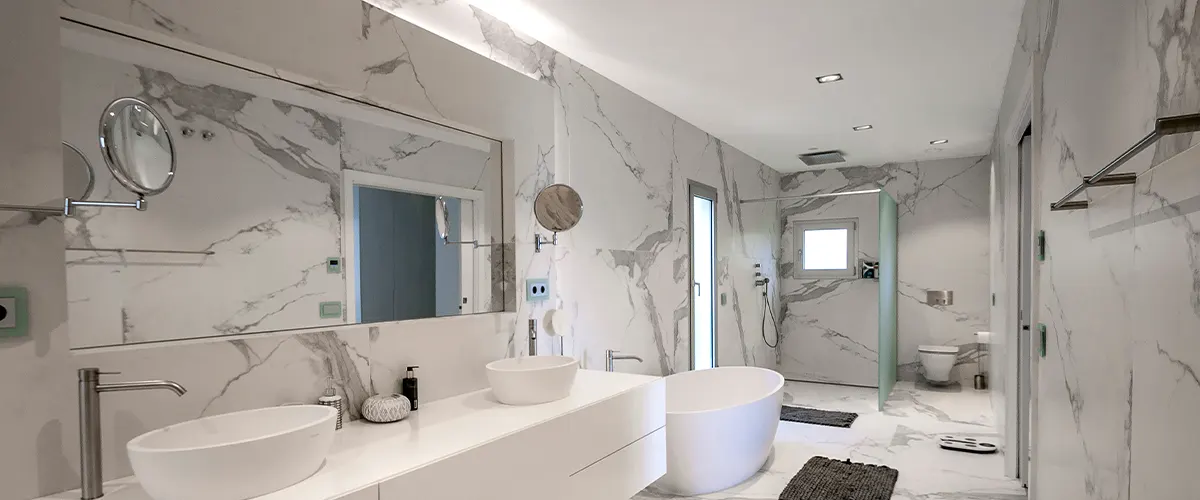 The Many Benefits of Adding Custom Lighting to Your Bathroom
Whether you're getting ready for a night out on the town or just trying to get a quick glimpse of yourself before heading off to work, good lighting in your bathroom is essential. But finding the right balance of brightness and style can be tricky—that's where custom lighting comes in.
By adding custom lighting to your bathroom, you can enjoy all the benefits of having light exactly where you need it without sacrificing any of your bathroom's aesthetic appeal. Here are just a few of the many benefits of adding custom lighting to your bathroom space:
One of the most important benefits of having custom lighting in your bathroom is that it allows you to make the most of the space. By adding light fixtures in strategic places, you can create a functional and well-lit space that meets all of your needs.
For example, if you have a large mirror in your bathroom, placing a light fixture above it will ensure that you have plenty of light for tasks like applying makeup or shaving. Or, if you have a small bathroom with limited natural light, placing light fixtures around the perimeter of the room will brighten up the space and make it feel larger.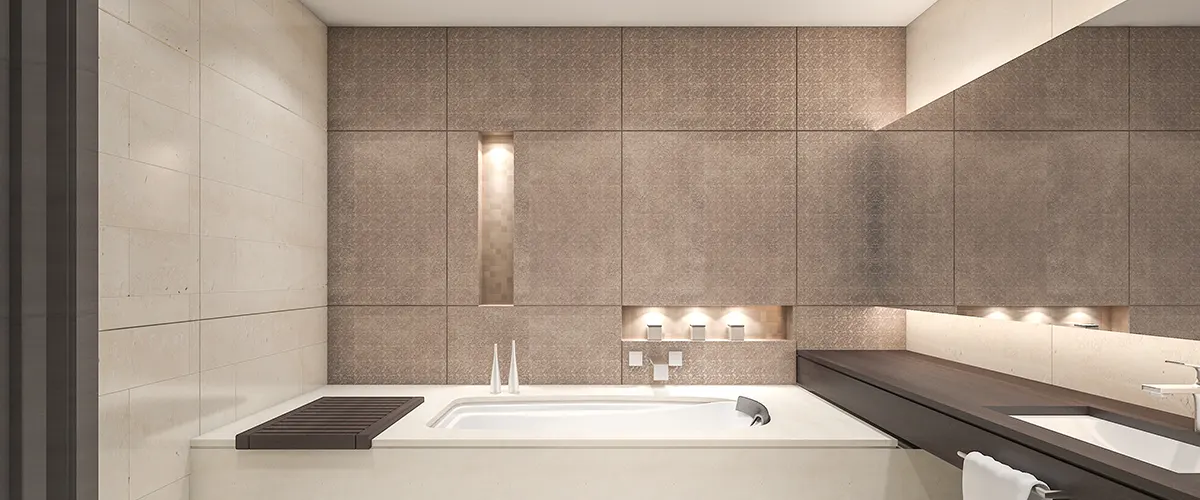 Another big benefit of custom lighting in your bathroom is increased safety. Slips and falls are one of the most common accidents in the home, and they often happen in bathrooms because they can be slippery places. By making sure your bathroom is well-lit, you can help prevent slips and falls by ensuring that there are no hidden hazards lurking in the shadows.
In addition to being functional and safe, custom lighting can also help improve the overall aesthetics of your bathroom. With so many different styles and types of fixtures available, there's sure to be a light fixture that perfectly complements your existing décor. And if you're not sure where to start, our team of experts would be more than happy to help you find the perfect fixture for your space.
5 Ideas for Better Bathroom Lighting
Anyone who has ever struggled to put on makeup in a dimly-lit bathroom knows that good lighting is key for any bathroom. But with so many different types of bathroom lighting available, it can be hard to know where to start. To help you create a brighter, better-lit bathroom, here are five bathroom lighting ideas to consider.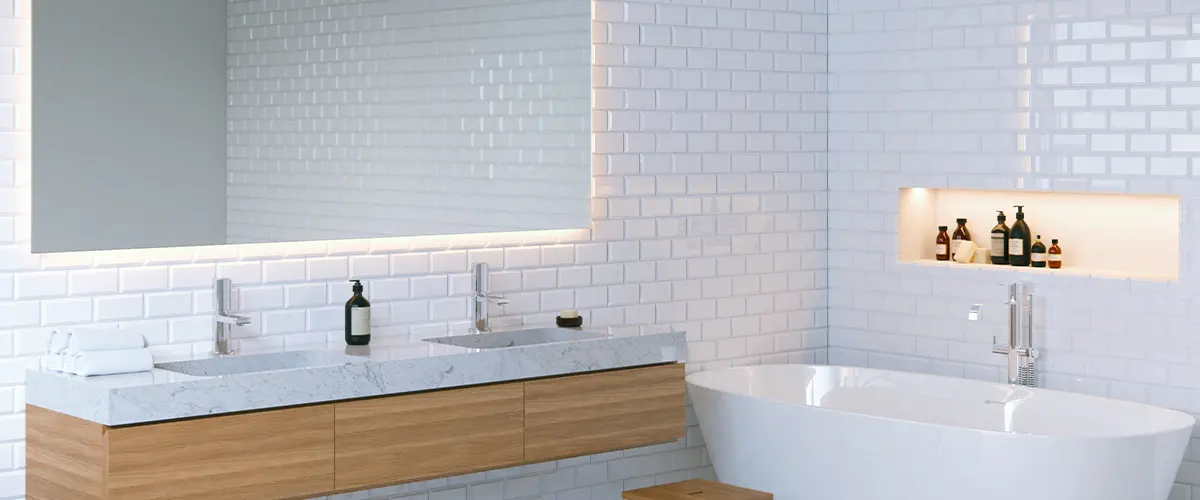 Vanity lighting is a must in any bathroom. These lights are installed above or around the mirror and provide the ideal light for tasks like putting on makeup or shaving. For best results, use a combination of both ambient and accent lighting in your vanity mirror area. Ambient lighting provides general illumination, while accent lighting highlights specific areas.
Pendant lights are a great way to add a decorative touch to your bathroom while also providing needed light. Hang pendant lights over your bathtub or in other areas where you want to add a touch of style. Just be sure to use pendant lights that are rated for use in damp areas, such as those with sealed glass or metal shades.
Chandeliers are another type of bathroom ceiling lights fixture that can add both beauty and light to your bathroom. For an added touch of luxury, hang a chandelier over your bathtub or above your aanity area. For best results, use chandeliers that are also rated for use in damp areas. You'll instantly be able to see the ambient light that chandeliers can bring, especially to a master bathroom.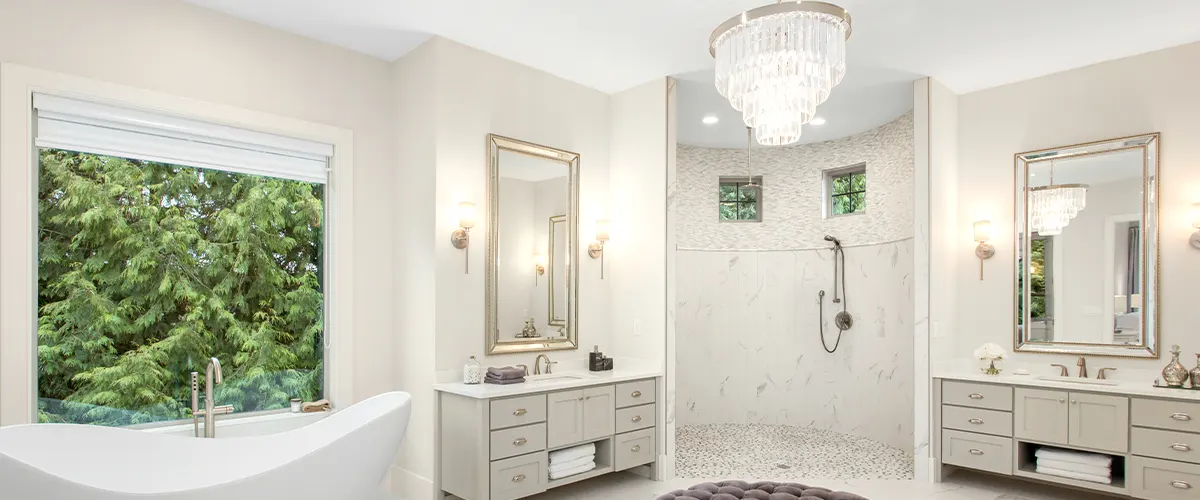 Wall sconces provide an attractive alternative to overhead lighting and can be used in conjunction with other types of lighting to create the perfect blend of light for your space. Wall sconces can be placed on either side of your mirror or on either side of your Bathtub Area for a relaxing, spa-like feel. Just be sure to choose wall sconces that are rated for use in damp areas.
Recessed lighting is another popular option for bathroom lighting. These lights are installed in the ceiling and provide a clean, modern look. Recessed lights can be used as task lighting around your Vanity Area or as general illumination in your Bathtub Area. Be sure to choose recessed lights that are specifically designed for use in damp areas such as bathrooms.
Now that you know more about bathroom lighting, it's time to start planning your own remodel. If you need help with your lighting during your bathroom remodel,  you can check out NKBA's website for more inspiration and if you need help, we're here for you. We would be happy to help you choose the right fixtures and install them correctly so that you can enjoy your new space for years to come, so contact us today!