Hundreds of thousands of Americans take on kitchen remodeling projects each year. 
If you're planning a kitchen remodel, you may be wondering what the process is like and how to get started. 
In this blog post, we'll take you through the kitchen remodeling process from start to finish so you know what to expect. Whether you're working with a professional or doing it yourself, follow these steps for a smooth and successful kitchen remodel.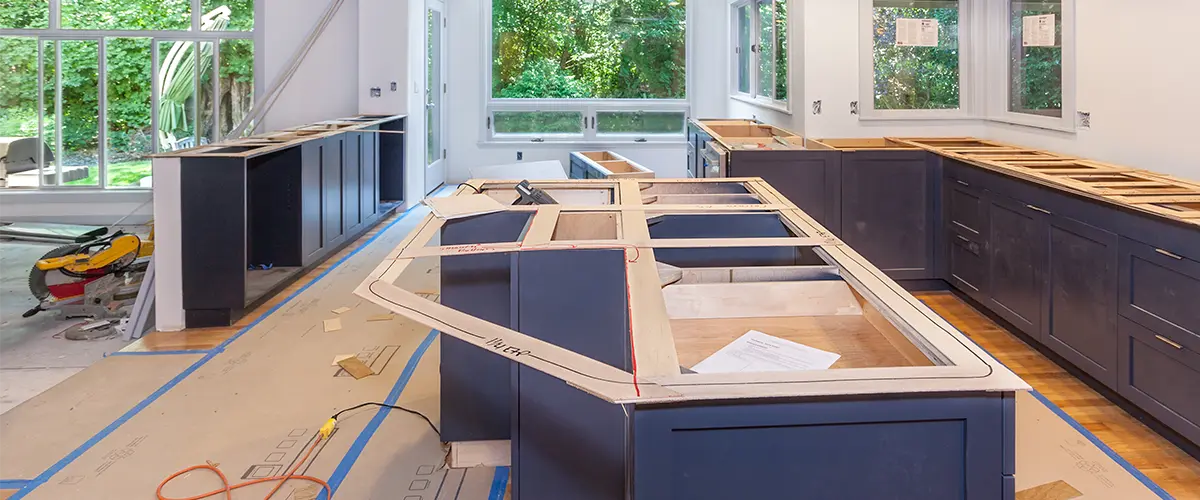 Everything You Need To Know About A Kitchen Remodel
Everyone wants their kitchen to look its best. Whether you're planning a full-scale renovation or want to spruce up the existing space, remodeling your kitchen is an exciting and rewarding process. 
But before you dive into demolition, some important steps need to be taken in order to ensure a successful remodel. 
Read on for a step-by-step guide to the kitchen remodeling process.
Step 1: Define Your Vision
Before you get started, it's important to have an idea of what your dream kitchen looks like. Consider how you want the space to function, who will be using it, and any special features you may want (like a breakfast nook or larger pantry).
Once you have an overall vision for your new space, make sure to create a timeline and budget that will help keep everything on track. And remember that you don't need to have all details narrowed down ( from lighting fixtures and cabinet hardware to functional kitchen appliances ). 
You can discuss them with your contractor when the time is right. For now, focus on the most significant construction tasks.
Step 2: Get Quotes & Shop Around
Now that you know what materials you need, it's time to start shopping around for them! 
This is where comparing quotes from multiple vendors comes in handy—you want to ensure that you get the best deal possible without sacrificing quality materials or craftsmanship. 
Once all your materials have been purchased, call up some contractors or professionals who can help with installation if necessary (depending on the type of work involved).
Now comes the fun part! Work with a professional designer or contractor who can help bring your vision to life. 
During this stage, you'll discuss details such as layout, materials, appliances, light fixtures, and more. The design team should be able to provide 3D renderings so that you can get an idea of how the finished product will look. 
They may also present ideas that may improve the functionality of your space or save money in the long run.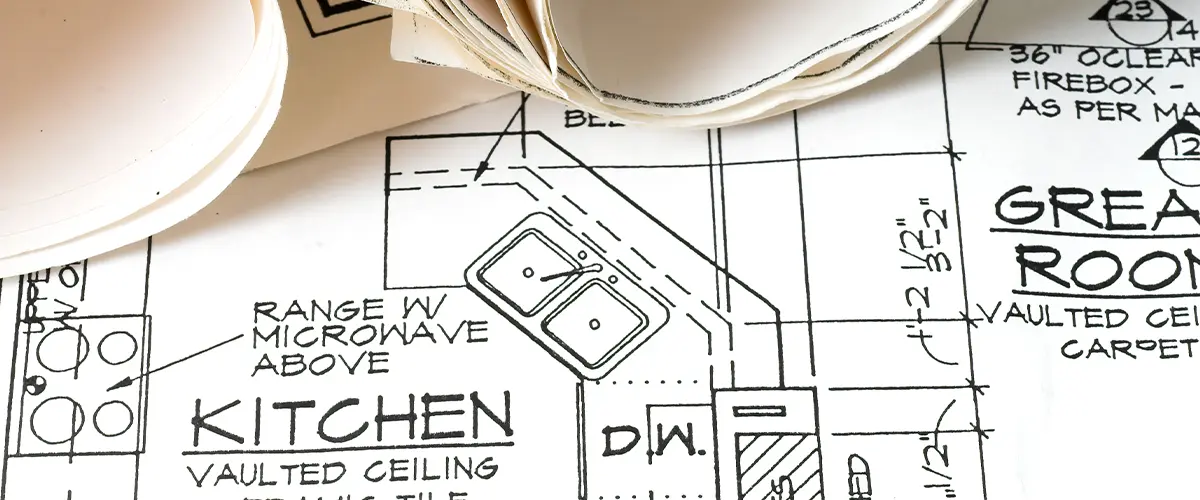 Step 4: Select Materials & Appliances
Now it's time for the details! 
Depending on your budget, select materials such as flooring, countertops, backsplashes and cabinetry that fit within your style preferences and price range. 
Next comes appliance shopping; if possible, try out models in person so that you can experience them firsthand before making any decisions.
When planning out your kitchen remodel, it's important to create a wish list so that everyone involved in the process has an idea of what they are aiming for. 
It should include things like materials that you would like to use, appliances that need updating, and any other features or amenities that could make your kitchen more functional or stylish. 
Once this list has been created, it will be easier for contractors and designers to give you accurate estimates on cost and timeline for completion.
Step 5: Demolition & Construction
Finally we are ready for demolition and construction! 
Before any work begins make sure all necessary permits have been obtained and inspections completed so that everything runs smoothly throughout the process. 
During construction be sure to communicate regularly with your designer/contractor about any changes or questions – they are there to help ensure everything goes according to plan!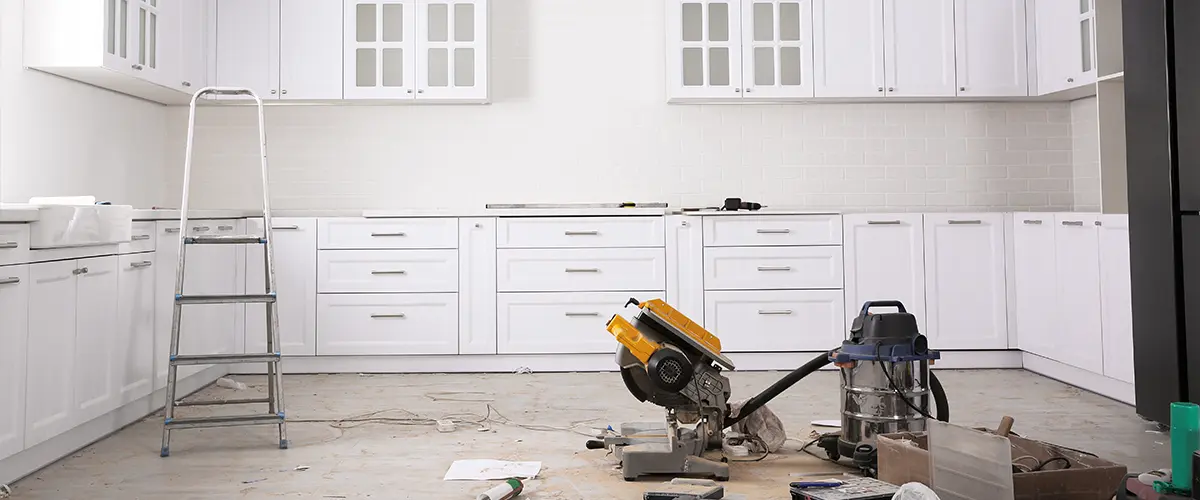 How to Find the Perfect Contractor for Your Kitchen Remodel
Remodeling your kitchen can be an exciting and rewarding experience. But, if you don't find the right contractor for the job, it can also be a complete disaster. 
It's important to ensure that you find someone who is reliable, trustworthy, and knowledgeable about all aspects of kitchen remodeling. Here are a few tips on how to find the perfect contractor for your kitchen remodel.
Word-of-mouth recommendations are one of the best ways to get reliable information about contractors in your area. Ask family, friends, and colleagues if they have ever had their kitchens remodeled and what contractors they used. 
They can tell you firsthand whether they had a good experience or not, which will help you narrow down your list of potential contractors.
Once you've compiled a list of possible contractors from word-of-mouth recommendations, do some research online. Check out contractor review sites like Angie's List or HomeAdvisor to read reviews from former customers. 
Also, look for any complaints against the contractor that may have been filed with the Better Business Bureau or other consumer protection agencies. 
This will give you a better idea of each contractor's reliability before making a final decision for your typical kitchen remodel.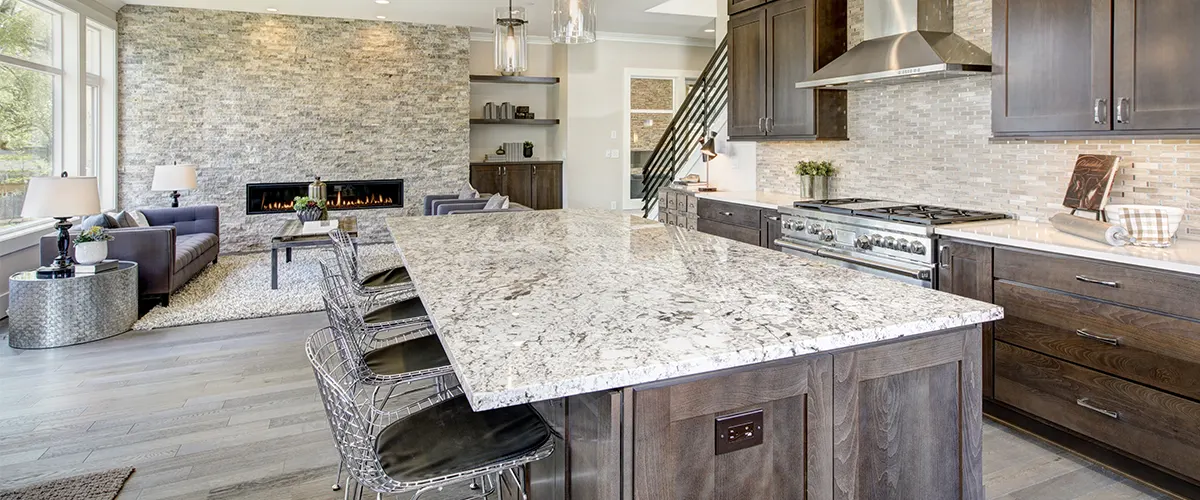 Interview Potential Contractors
Schedule interviews with any contractors you are considering and ask them questions about their experience and qualifications. Make sure they specialize in kitchen remodels specifically, as this requires different skills than other types of construction projects such as bathroom renovations or deck building.
Ask them what materials they will use and what type of warranty they offer on their workmanship—these are all important factors when choosing a contractor for your major kitchen remodel project. 
After all, this company and its workers will be responsible for everything from installing your ceramic tile and custom cabinets to making sure all plumbing fixtures are functioning properly.
Before hiring a contractor, make sure that they are properly licensed and insured in your state or municipality. It is also important to verify that they carry workers' compensation insurance in case one of their employees gets hurt on the job. 
Also, be sure to ask whether they subcontract any work out; if so, make sure those subcontractors are also properly licensed and insured.
Deciding to undergo a kitchen remodeling project is a big decision. 
There are many things to consider, but with careful planning, you can end up with the kitchen of your dreams. Make sure to set a budget for your remodel and find a reputable contractor or designer who can help you bring your vision to life. 
With some hard work and patience, you'll soon have the kitchen of your wildest dreams. 
Gigi Homes & Construction is a licensed and insured remodeling contractor proudly serving Centreville, Manassas, Chantilly, Fairfax, and more of Fairfax County and Prince William County, Virginia, with complete kitchen remodeling services and more!
Give us a call at (703) 675-7574 and let's work together to give you a quick, intuitive, and effortless remodeling process!