If you're looking to refresh your kitchen's vibe but want to do it without all the stress and hassle of doing a full-scale remodel, kitchen cabinet refinishing is probably your best option.
Put simply, kitchen cabinet refinishing means sanding down your existing cabinets just to paint or stain them in a new color (or the same.) Besides repainting, you can also add crown molding and trims for another quick upgrade.
And if you're not sure if a kitchen cabinet refinishes project is worth it, KCMA reports that refinishing cabinets brings back more ROI than refacing or replacing!
But there's more!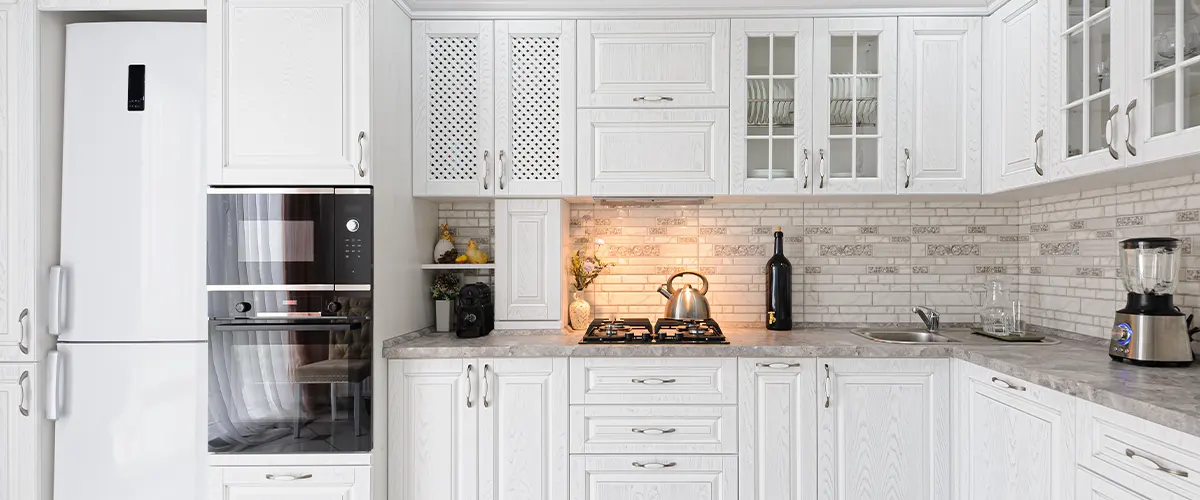 Kitchen Cabinet Refinishing In-Depth
Kitchen cabinet refinishing is a cost-effective way to spruce up the look of any kitchen. It involves sanding and peeling off the old paint on your existing cabinets and then painting or staining them with a new color (or the same).
You can also treat them with a sealer for extra protection against water damage, which is very common in settings like kitchen space.
Refinishing is often the better choice between refacing and replacing because of several advantages, such as:
Kitchen Cabinets Refinishing Cost
Refinishing kitchen cabinets can be a relatively inexpensive way to upgrade the look of your kitchen without having to do a full-scale remodel.
The cost of refinishing kitchen cabinets depends on several factors, such as the size of your cabinets, the quality of materials needed, and the amount of labor required. In general, we estimate a project based on the number of cabinets you have.
Angi and HomeAdvisor reported that the general cost to refinish cabinets range from $1,500 up to $5,000, with the average homeowner spending an estimated $2,975. 
In addition, the total expense of kitchen cabinet refinishing per square foot is between a low of $4 and a high of $25, including supplies and labor costs.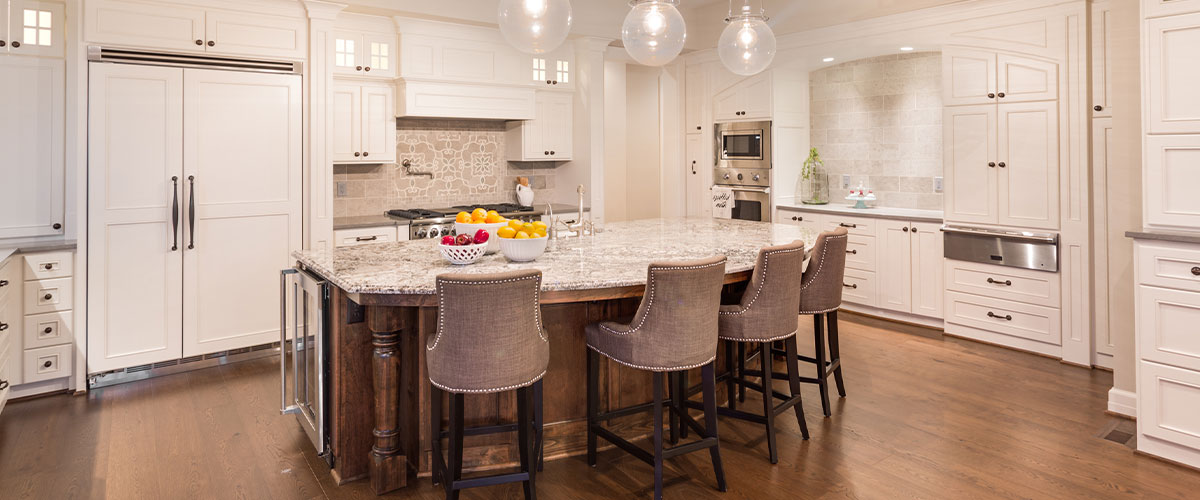 Kitchen Cabinet Refinishing Process
Refinishing your existing cabinets can be part of your kitchen remodel if they're sort of new and still highly functional. Luckily, the entire process is rather easy and can be done in as fast as two working days (depending on the type of paint/stain you want).
The process of refinishing kitchen cabinets involves several steps to achieve a successful outcome. Here's a detailed step-by-step guide if you want to refinish kitchen cabinets by yourself:
Do It Myself Or Get A Professional?
Repainting kitchen cabinets isn't a project to take lightly. Although it doesn't involve too many cuts and measurements, painting is an art and if you want to get the most out of this project, you want the paint job to turn out perfect.
Besides, painting can get really messy and mentally exhausting. I mean, if it takes you one hour to thoroughly paint one cabinet, and you have over a dozen, that's a lot of time you're wasting instead of doing something more productive.
Another thing to keep in mind is the kind of materials you'll want to use. Having a professional to tell you precisely which type of cabinet paint or stain is better saves you from a lot of overthinking.
Note: While this is not to say you can't undertake this project yourself, many of the homeowners we've worked with said they couldn't have refinished their cabinets as quickly and efficiently as we did.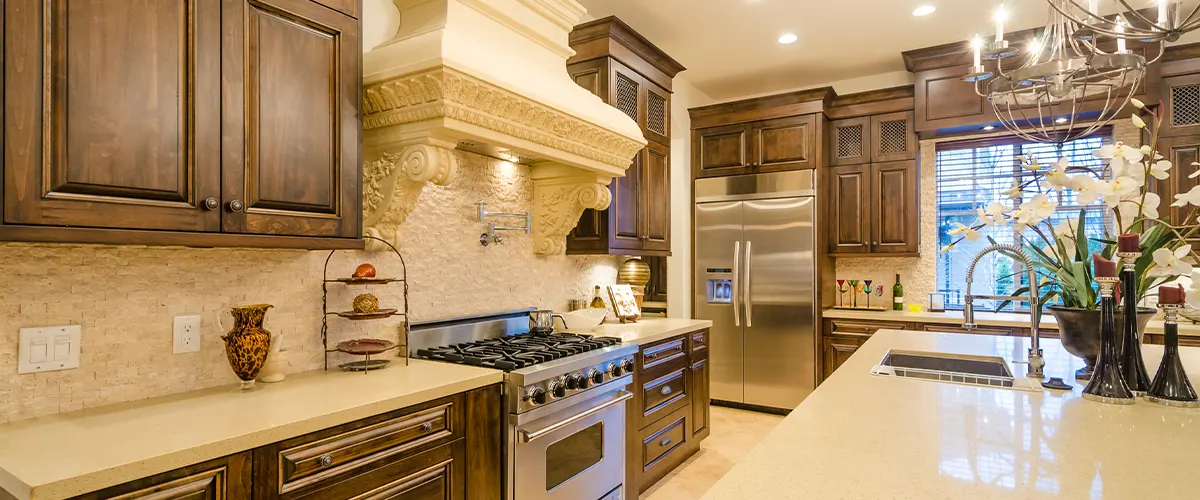 Both paint and stain are two viable options if you want to refinish kitchen cabinets, but choosing when to use them is what matters more.
Stain works best for wood cabinets. Considering most older kitchens have hardwood cabinets, you'll want to get a quality stain that sticks. Be very careful with the color you're going for, as you don't want to break the vibe of your kitchen space.
Paint works best for MDF cabinets. Medium-density fiberboard cabinets are usually newer, more modern cabinets. Paint sticks better to this material than stain, and it'll result in a much better finish.
Needless to say, all the doors need to be painted with exactly the same color.
Common Cabinet Refinishing Mistakes To Avoid
If you've decided to start this project by yourself, we still want to help. Maybe you just want to save some money by doing a part of the work, or maybe you're determined to go through with it. Either way, there are some common mistakes that we've seen many people do.
Let's talk about the most common cabinet refinishing mistakes.
#1. Mixing Up The Cabinet Doors
You'll have to take the cabinet doors off, and if you're mixing them up, finding the right door for the right cabinet can cause a lot of frustration. If, for example, you have slab doors, it can be nearly impossible to tell which is the front and the back of the door. Keep the doors organized by labeling them and the cabinet they came from.
#2. Fix What Needs To Be Fixed
Although this is a cabinet refinishing project, you'll also have to repair cracks, holes, or dents if you find any. This way you're ensuring the cabinet is 100% functional and looks good. We normally use wood filler for most small repairs, but if the damage is extensive, the door might need replacement.
#3. Never Skip Sanding/Peeling Off Old Paint
For the new paint or stain to properly hold, you'll need to ensure the surface of the door is polished and free of any debris. Before applying your first coat of paint, clean the doors thoroughly to ensure a proper painting job.
If you've never (or rarely) painted with a brush, we recommend you avoid it altogether. The best way to paint cabinets is with a paint sprayer. Brushes will leave a lot of brush marks and even brush hairs on the door, ruining your project.
#5. Don't Skimp On Primer
We've all been there – we're so eager to get started with the beautiful color that we tell ourselves it's okay to skip the primer and just add another coat. However, this can be a mistake; primers are essential for any painting project! Selecting a superior primer is essential in creating that crucial barrier between the wood's imperfections and the paint.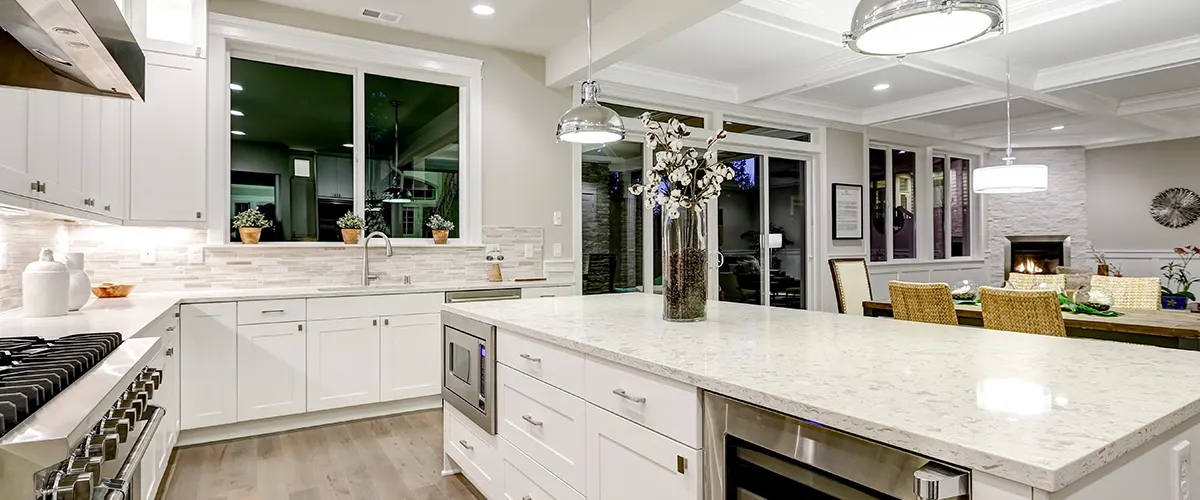 Frequently asked questions
If you don't feel comfortable refinishing cabinets, you can reface or replace them altogether.
Refacing cabinets means taking the cabinet faces apart and replacing them. The only thing that remains the same will be the cabinet boxes. This is a great project if the cabinet faces are faded or highly damaged.
By far, refinishing the cabinets brings back the most ROI, so if you're planning to sell that place, this quick and affordable upgrade will totally pay off. Refacing is the next in line that also gives a little bit of ROI, but replacing the cabinets altogether is only worth it if you're building your dream kitchen that you're keeping.
So, kitchen cabinet refinishing is definitely a project worth undertaking. However, we wouldn't recommend you do this by yourself.
Prepping and painting the cabinets is exhausting, time consuming, and it takes experience and skill to ensure you're getting a quality paint job. If you do it by yourself, chances are you'll see paint drips, brush marks, or even color on the surface.
If you want professional help, we at GiGi Homes & Construction would be more than happy to assist you. We offer complete kitchen remodeling services for homeowners in Centreville, VA and surrounding areas.
Give us a call at (703) 675-7574 and let's work together to give you a quick, intuitive, and effortless kitchen cabinet refinish!