Installing new kitchen or bathroom countertops is a way to boost the room's functionality and your home's value. If you plan an entire kitchen or bathroom remodel or want to replace only the countertops, you will also consider the prices.
Kitchen countertops are available in many materials, finishes, and edge treatments to match any budget. Discover below some of the most common kitchen countertops prices options and what factors influence countertop prices.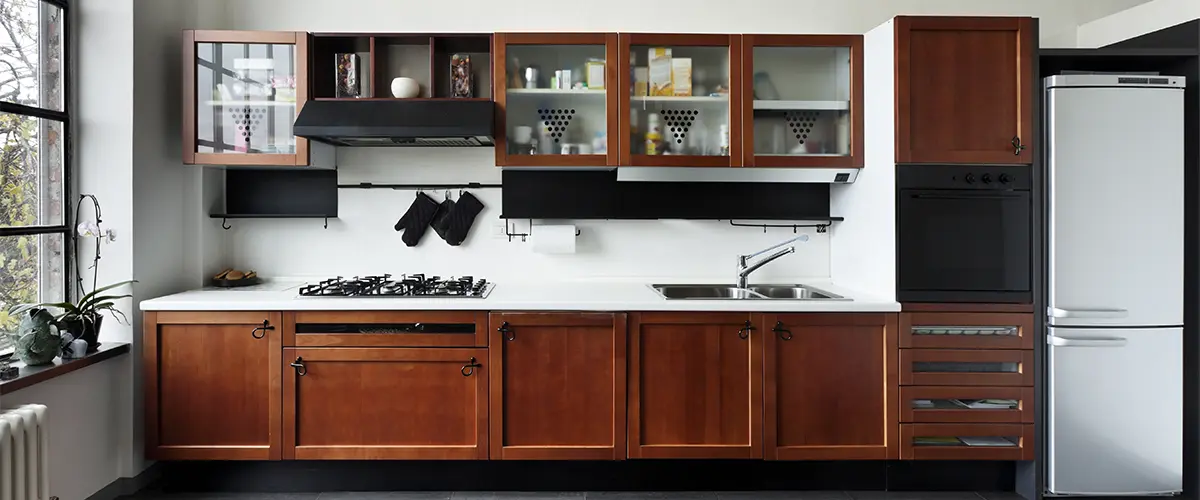 Common Countertop Options
Granite countertops are some of the very popular options for young generations, according to NAHB. Granite is a durable, heat-resistant material that does shatter, scratch, or chip. When used for kitchen countertops, it's far superior to marble, synthetic, and laminate.
Granite countertops cost between $2,000 and $4,500. Pieces of material range from $40 to $60 per square foot, and labor runs from $35 to $85 an hour.
Quartz, or Engineered Stone, is one of the most used kitchen countertops materials. Quartz is a composite material of crushed stone bound together by an adhesive. Quartz has a similar appearance to natural stone. One difference you will notice is that it is more uniform in color and pattern.
Natural stone countertop material contains variations in color, hue, and pattern because of how the stone forms on the earth. Because quartz is manufactured, the appearance of each slab ends up with less variation. One benefit is that the pieces used throughout your kitchen will match perfectly.
The average quartz countertop costs between $3,000 and $7,500 for a decent-sized kitchen.
Marble countertops have an air of elegance. They are some of the most durable countertop materials. Marble countertops come in various types, qualities, prices, and colors, so researching will help you find the best marble. Marble has endless variations because of factors like where it's sourced from, impurities, patterns, colors, and veining. Colors can range from white to black to pink to green.
Marble countertops tend to cost $40 to $100 per square foot.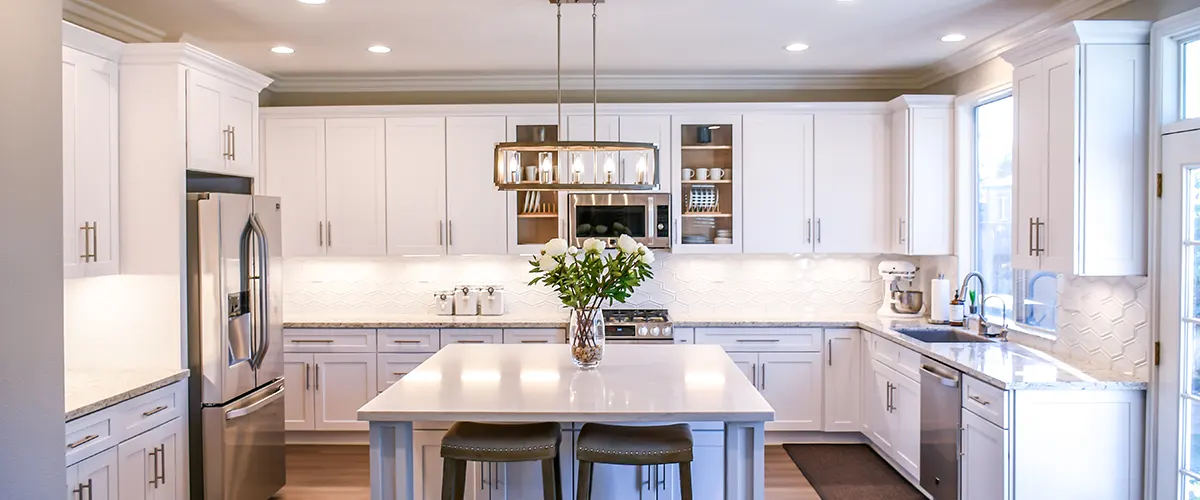 Limestone is a natural stone that is formed primarily from calcium carbonate. Limestone is a chemical sedimentary rock that forms from solidifying minerals out of solution into rock form.
Limestone is a good choice for kitchens that do not get a heavy workout. They're beautiful and as challenging to maintain as marble but at a lower cost. There are several attractive limestone grades and styles.
Limestone countertops cost $55-$125 per square foot.
Concrete countertops offer a completely customizable, handcrafted surface popular in kitchens and bathrooms and in entertaining outdoor areas. Concrete counters marry functionality and beauty, plus they are inherently durable and easy to clean and maintain.
Concrete countertops range from $65 to $135 per square foot. This price generally includes the countertop design, materials, construction, and installation.
Lava stone is an attractive bathroom or kitchen countertop alternative to granite or quartz. Lava stone has lovely glazed finishes with custom colors and hand-made designs.
Lava stone is the most expensive countertop material. You can expect to pay $250 to $350 per square foot.
Laminate countertops consist of plastic fused with kraft paper or particleboard. As with other laminate surfaces (like those used for tables and guitars), the intent is to create a look evocative of more expensive, solid materials. Laminate countertops can imitate materials like wood and marble.
Laminate countertops average $20-$60 per square foot, while their professional installation costs 55$ per square foot.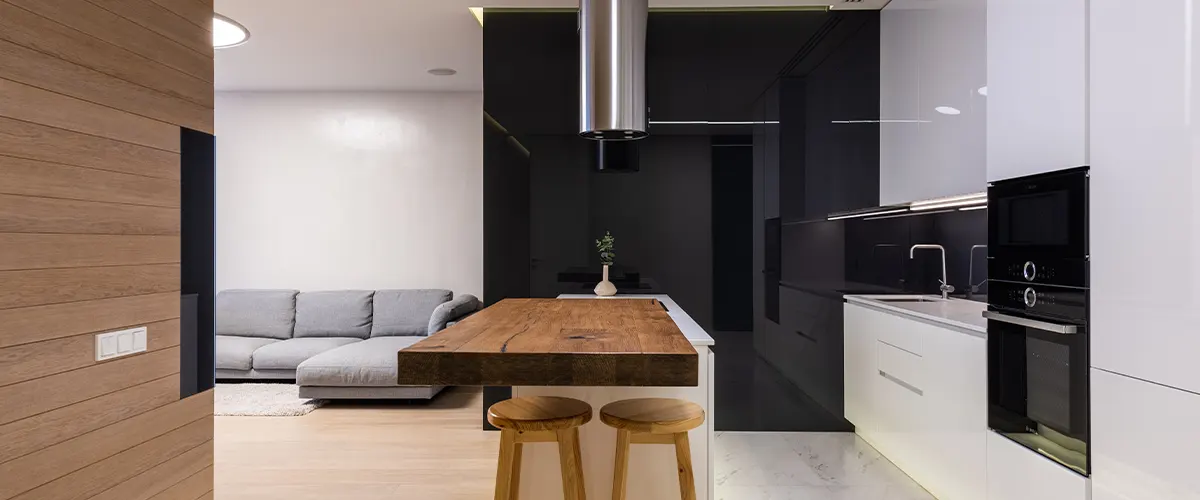 Tile countertops are produced using ceramic tile, glass tile, and porcelain tile. Tile is one of the most versatile materials because it comes in a nearly endless variety of styles, sizes, shapes, and colors. For this reason, it has never gone out of vogue as a material for use in kitchen and bathroom remodeling projects.
The tile can range from $2 to $30 a square foot. The average cost for installing tile countertops is $1,500, and it can be delivered for as low as $500 or as high as $3,000, depending upon what you get. Installation costs between $540 and $2,000, depending on the area you want to tile.
Stainless Steel Countertops
If you've spent any time watching cooking shows, you know that almost all professional kitchens feature stainless-steel countertops. Nothing stands up to heat, water, and stains better than metal.
Yes, it can scratch, and its appearance can be cold if not surrounded by warm tones, but when you don't want to worry about being careful, there is no alternative to the carefree maintenance of metal countertops. Thanks to its durability, stainless steel is the most popular metal countertop material.
The stainless steel countertop material costs between $70 to $215 per square foot.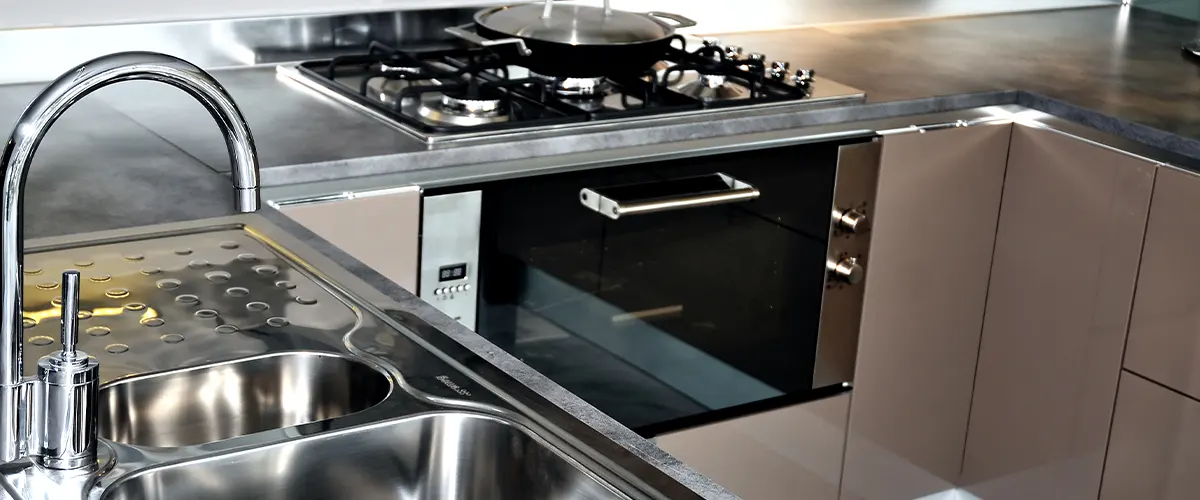 Natural wood countertops are an old-world idea that has never gone out of style. As homeowners pore over kitchen and bath design options in the constantly changing world of materials and styles, the wood countertop remains a classic.
Generally, you can expect wooden countertops to fall in the range of $60 to $100 per square foot, including installation.
Although not as common as other countertop materials, soapstone remains one of the most functional countertop materials. It adds a rustic, elegant, and urbane feel, similar to slate or granite. Since this is a natural material, soapstone might not be as common as man-made countertop materials. It is made from a naturally occurring steatite stone that includes dolomite, magnesite, and chlorite. If you prefer natural countertop materials, you will enjoy your soapstone countertop.
Soapstone countertops are a mid-range stone countertop material. On average, the total cost for a fifty-square-foot soapstone countertop will range between $2,700 and $4,200.


The cost is broken down into installation costs, which will be between $550 and $750, and the material costs of the soapstone itself, which will cost $2,100 to $3,600 for a fifty-square-foot countertop.
Slate countertops have many advantages. They are good-looking, have great durability, and have a non-porous surface that makes them easier to clean and requires less maintenance than granite, marble, or concrete. This versatile countertop product works well in kitchens, bathrooms, and wet bars and can be used for backsplashes and sinks.
The cost of slate countertops ranges from $30 to $90 per square foot.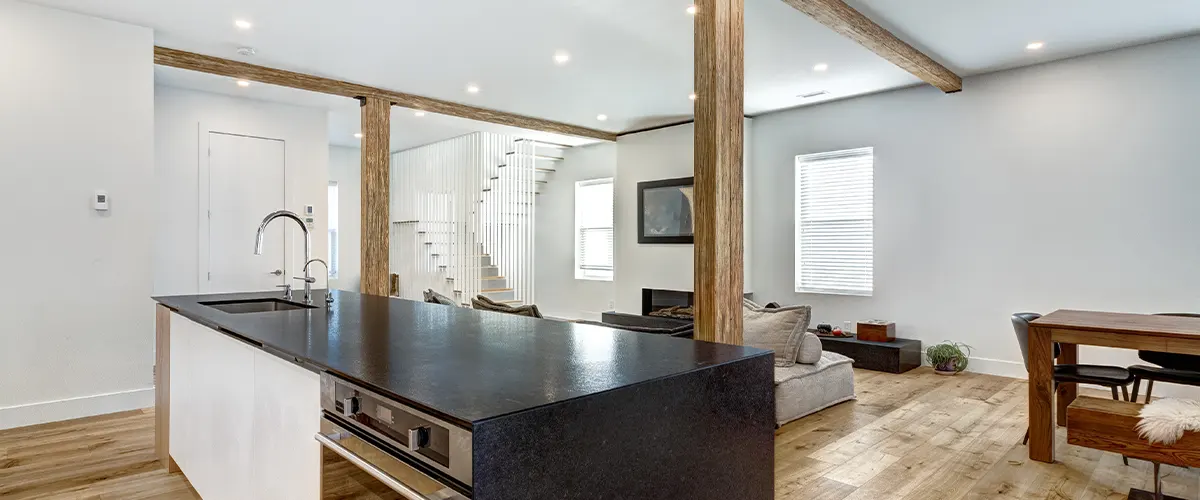 What Influences The Cost Of Countertops?
Several factors impact the overall cost of the countertops, ranging from the material to the finishing touches to its overall size. Discover some of these factors below:
Each type of countertop material can impact the design aesthetics and the entire cost of the installation project. Before you decide on materials, key considerations include appearance, durability, longevity, maintenance, and cost. Each countertop material generally works well for kitchens and bathrooms but may only work the best in some kitchens or bathrooms.
Price is calculated not only depending on individual material but also on the grade, color, and manufacturer. Many materials are suitable for kitchen countertops, like the ones we presented above.
The material and the needed amount are the two most significant factors that impact countertop costs. The size of the countertop affects the overall costs. Because the price is calculated per square foot, it is one factor that highly influences the overall project cost.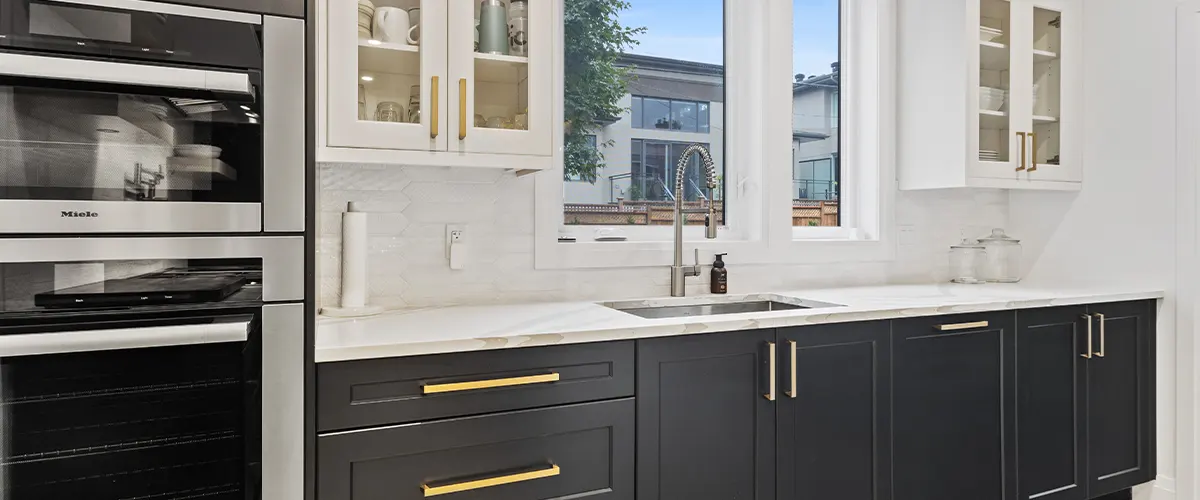 Selecting kitchen countertops is a vital aspect to consider when planning your kitchen or bathroom remodeling. We made the guide above to help you understand how to choose the right countertops for your home.
Gigi Homes & Construction is a licensed and insured remodeling contractor proudly serving Centreville, Manassas, Chantilly, Fairfax, and more of Fairfax County and Prince William County, Virginia. We're dedicated to bringing to life the most intricate visions, focusing on clarity, transparency, and customer satisfaction.