Kitchen Remodeling Cost Manassas
If you want to learn more about the cost of remodeling a kitchen in Manassas, you're in the right place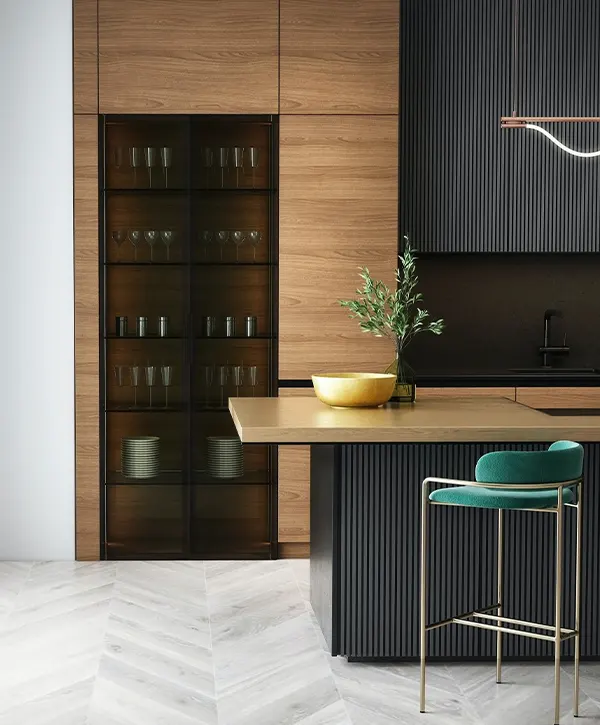 According to the 2022 Cost vs Value Report, kitchen remodels in Manassas VA average around $26k and are among the home improvements with the highest ROI. More specifically, minor kitchen remodels boast a 68.6% return on investment, while major kitchen renovations have an ROI of 53.7%.
Here at GiGi Homes & Construction, we want to give you the kitchen of your dreams without breaking the bank. We know that budget is a top concern for many homeowners embarking on a remodel project, so we're committed to being upfront and honest about pricing from the start. That way, you can make informed decisions about which options are right for you and your home!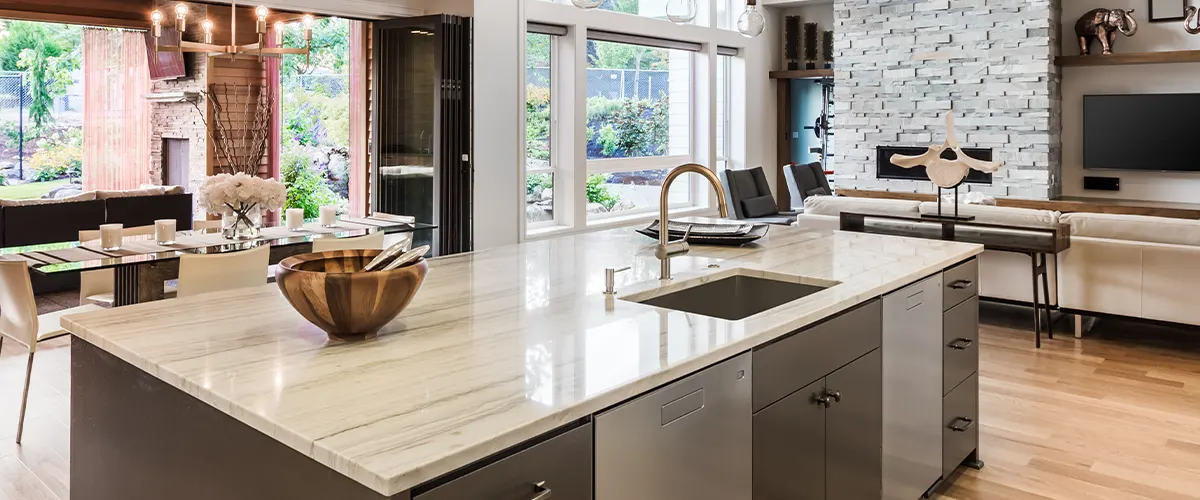 The Typical Kitchen Renovation Cost In Manassas
The cost to renovate a kitchen in Manassas depends on the size of your space, what types of materials you use, and any special modifications you request. Generally speaking, larger spaces are more expensive to renovate.
Now let's examine average kitchen renovation cost estimates based on different sizes of kitchens.
| Size (square feet) | Average Cost |
| --- | --- |
| Small <70 sq ft | $20,500 - $40,000 |
| Medium 100-150 sq ft | $40,500 - $70,000 |
| Large 200+ sq ft | $70,000 - $150,000+ |
Labor In A Kitchen Renovation Cost In Manassas
More than just looks are important for a kitchen– functionality is key. You'll have to think about installation, plumbing, electrical work, carpentry, and building when designing your dream kitchen. To ensure a smooth process (and stay within budget), you'll want to get estimated costs from various professionals.
The people who design new spaces with safety in mind are called architects. If you want to make changes to your home by adding or taking away walls, then you need an architect's help. The building permit application also needs drawings and plans from the architect. Most architects charge hourly rates that fall between $65 and $250, even though some might choose a one-time fee that equals 10% to 20% of the whole project cost.
A kitchen designer will give your kitchen both style and function. They'll find the best layout for your new kitchen and make it look fabulous. Designers, much like architects, usually charge 10% to 20% of the total cost of a kitchen renovation project. A consultation with a designer might cost anywhere from $300 to $1,500+, depending on their skill level; however, in most cases, it is worth every penny as they can often save you money by avoiding costly mistakes.
There are many kitchen-based water problems that a carpenter wouldn't know how to fix as they lack the requisite skills. A handyman would only be able to temporarily fix it, whereas a plumber could go deep and target the issue's root cause. Keep in mind that plumbers usually charge $70-$150/hour on top of materials fees.
If you're moving your appliances, you'll need to have new electrical wiring installed. Making sure the installation is safe and sound is mandatory for your and your family's safety. A professional electrician will charge between $80 and $150 per hour, plus materials.
When choosing kitchen cabinetry, you have three main options: stock cabinets, semi-custom cabinets, and customized cabinets. If you want ones that are a perfect reflection of your style, then you'll need to hire a professional carpenter. However, it's important to keep in mind that the Kitchen Cabinet Manufacturers Association says semi-custom cabinets provide a higher return on investment. So if you're looking to improve your home's value through renovations, this might be the route you should take.
Get All In One With GiGi Homes & Construction
When it comes to kitchen renovations, working with a contractor who has experience can save you time and hassle. Here at GiGi Homes & Construction, we collaborate closely with other experts in various fields like electricians, plumbers, carpenters and designers.
So if you choose to work with us, you won't need to look for any other providers – we are your one-stop shop for kitchen remodels in Manassas. We're dedicated to helping you realise your vision and will work tirelessly to make sure your project is a success.
We provide expert kitchen remodeling services to homeowners in Manassas, and we take pleasure in providing the finest end result to all of our clients. Take a look through our selection and obtain a free quote right now!
The Upgrades And Features In A Kitchen Renovation Project
There are numerous upgrades and features available for kitchen remodels, which we will go over in detail during our on-site consultation. In the meantime, here is a list of the most popular options and how they will affect your renovation cost in Centreville.
A backsplash installed on your kitchen walls protects them from any food or liquid splatter while cooking. Not to mention, it's much easier to wipe down a tile backsplash than paint.
Let's look at some backsplash materials.
While stone tiles like granite, quartz, or marble ooze luxury and therefore come with a corresponding high price tag of $15 to $30 per square foot, they may not be the best option for your kitchen backsplash since they require more careful cleaning.
A ceramic tile backsplash is great for high-traffic areas like your kitchen. The material costs around $15 per square foot, and its installation is up to $25.
Stainless steel brings an industrial look to your kitchen but costs about $20 per square foot. On top of that, its installation is around $36.
The average labor cost to install a backsplash in your kitchen is between $20 to $50 per square foot, but that depends on your contractor and the scope of work.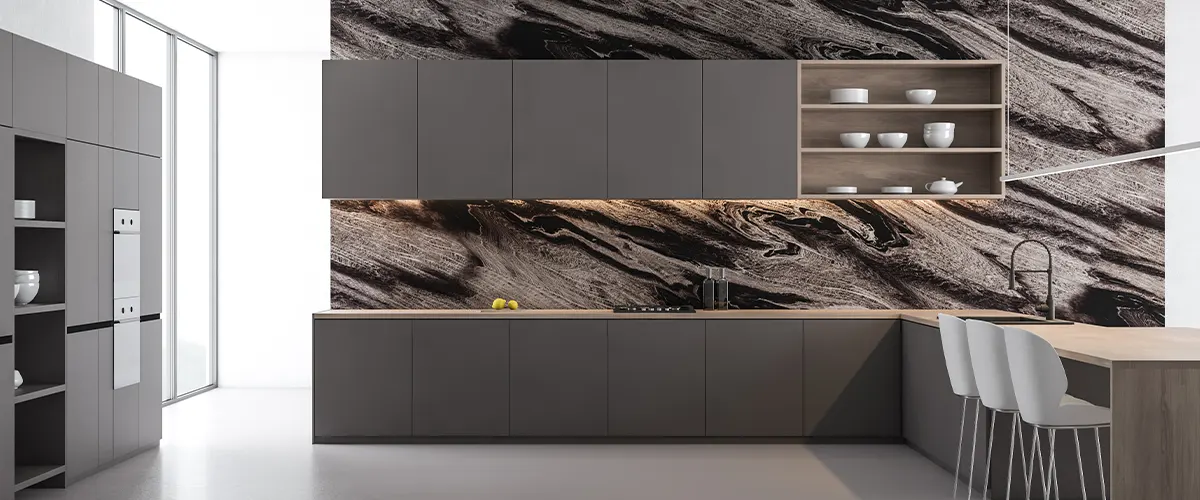 Although new appliances are not necessary when renovating your kitchen, they can be a luxurious (albeit expensive) addition to an upscale remodel. If you're looking for ways to save money however, keeping your old ones and making them work well with the new look of your kitchen is a great option!
Appliances are becoming more and more advanced, with a plethora of interesting features. Touch screens, scheduling options, or even robots that cook independently! For example, high-end kitchen ranges can cost upwards of $3,000. If you want a gas-infused one, installing gas lines costs around $200 per hour plus materials.
Kitchen appliances' costs are related to their efficiency. Even a well-optimized double oven might bring lower utility bills than a high-end range that works on electricity.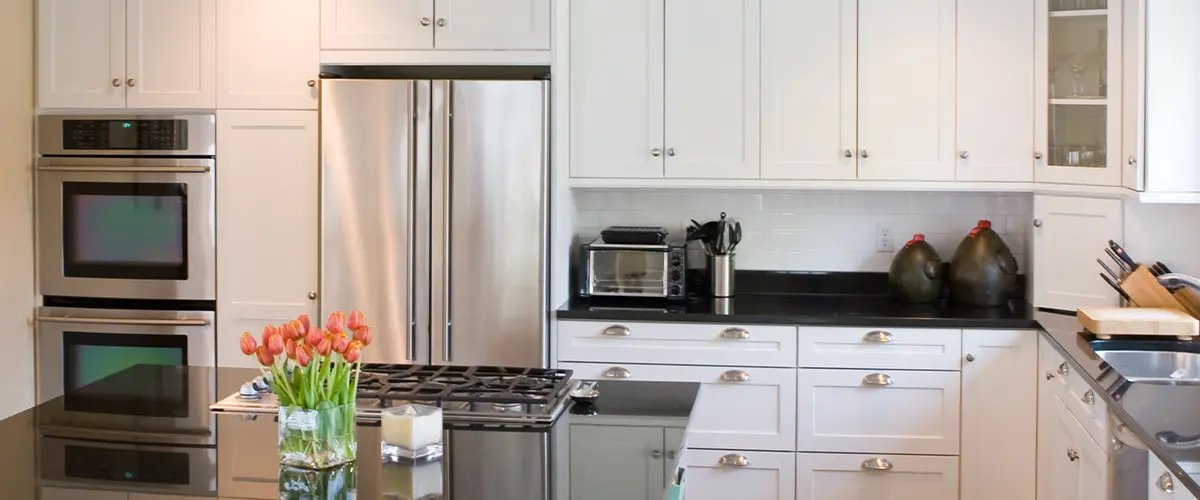 Out of all the potential focal points for your new kitchen, countertops stand out as the best option. Most kitchen renovations include upgrading countertops, and not doing this will likely be a hindrance to achieving your perfect kitchen.
Quartz provides one of the best values as it is both durable and costs $75 to $100 per square foot. It is man-made; however, it looks very similar to natural stone, which explains its widespread popularity. If durability is not a key concern, granite may be a more budget-friendly option at around $40-$60 per square foot. For an extra luxurious look, marble comes in at$100 per square foot but less functionality.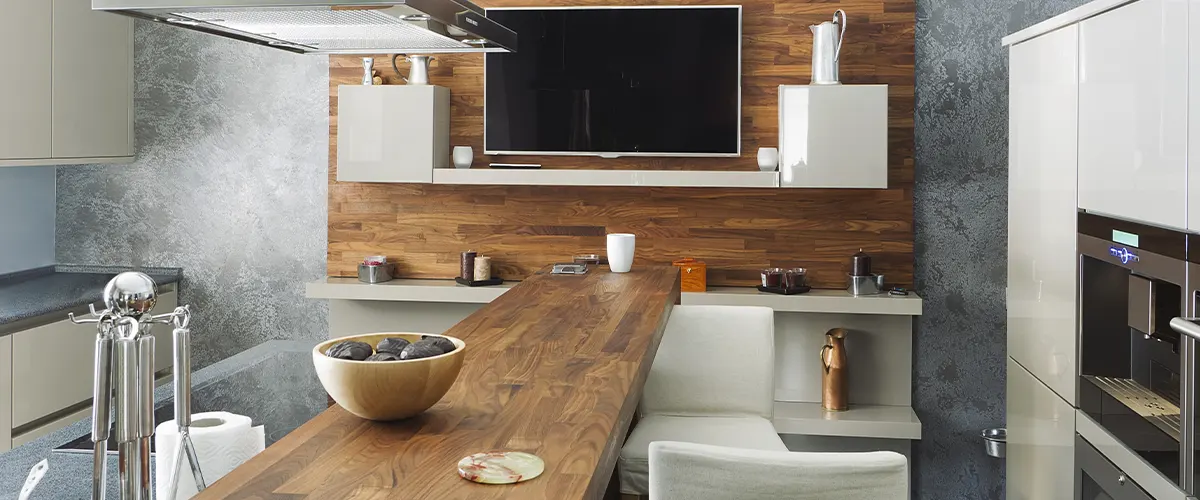 Although updating your floors is prevalent, it doesn't mean that you have to. If you currently have a hardwood floor in your kitchen, refinishing them will save money and bring back its original shine. Nevertheless, if you're hoping to install an entirely new hardwood floor, get ready to spend around $8k on average.
Luxury vinyl planks are also a great option for flooring because they're more waterproof than regular hardwood (and therefore require less maintenance), as well as being much easier to clean overall. Furthermore, luxury vinyl plank floors won't rot or develop mold over time – making them a durable investment.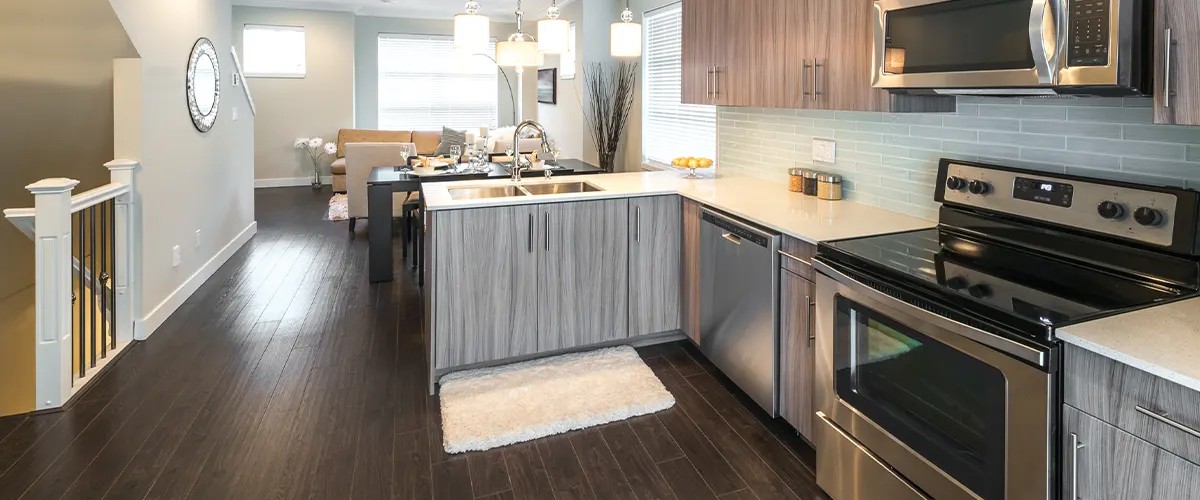 If you have spare room in your kitchen, a kitchen island can improve the space's functionality. If you're planning on getting one, mull over the cabinetry, counters, plumbing and electrical work that will be required. A kitchen island can cost anywhere from $3k to $15k+, depending on materials and features chosen.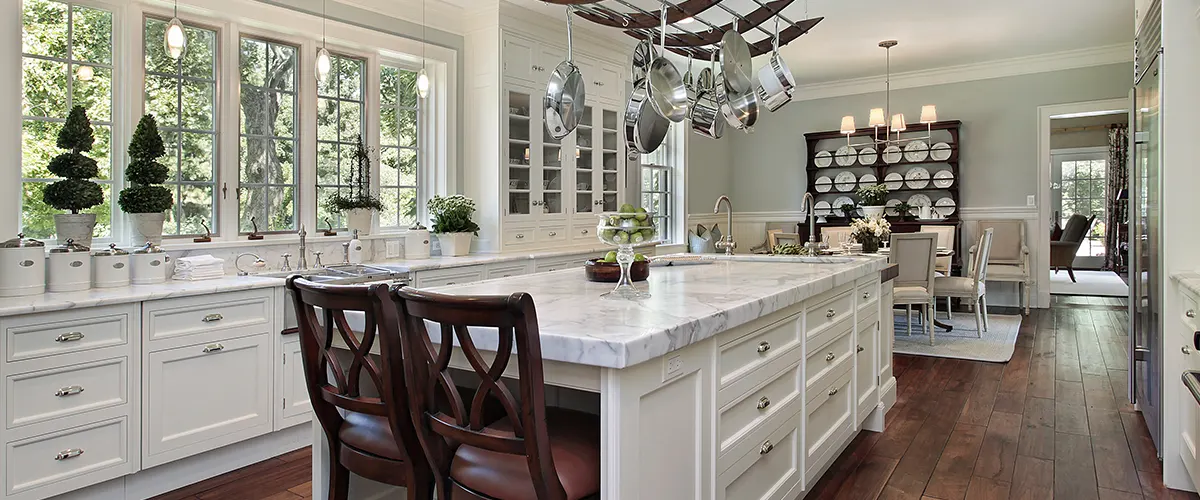 A kitchen renovation wouldn't be complete without new cabinets.
Stock cabinets are great if you're looking to stay within a set budget and you're not looking for awesome cabinets that'll make your kitchen pop.
Semi-custom cabinets are the best option for most of our customers. They are available in many sizes, dimensions, and finishes. You can also change their hardware and some of the finishes.
Custom cabinets are a more upscale option for your remodel, but custom cabinetry provides the perfect style and dimensions for your unique needs.
When it comes to cabinets, you generally get what you pay for. Custom cabinets will set you back $500-$1,200 per linear foot while semi-customizations cost a bit less at $100-$650/foot. If you're working with a tight budget, stock cabinets are your best bet falling in the range of just $60-$200/foot. Another expense often overlooked is under-cabinet lighting which adds warmth and ambiance to any kitchen–perfect for entertaining guests or spending family time together.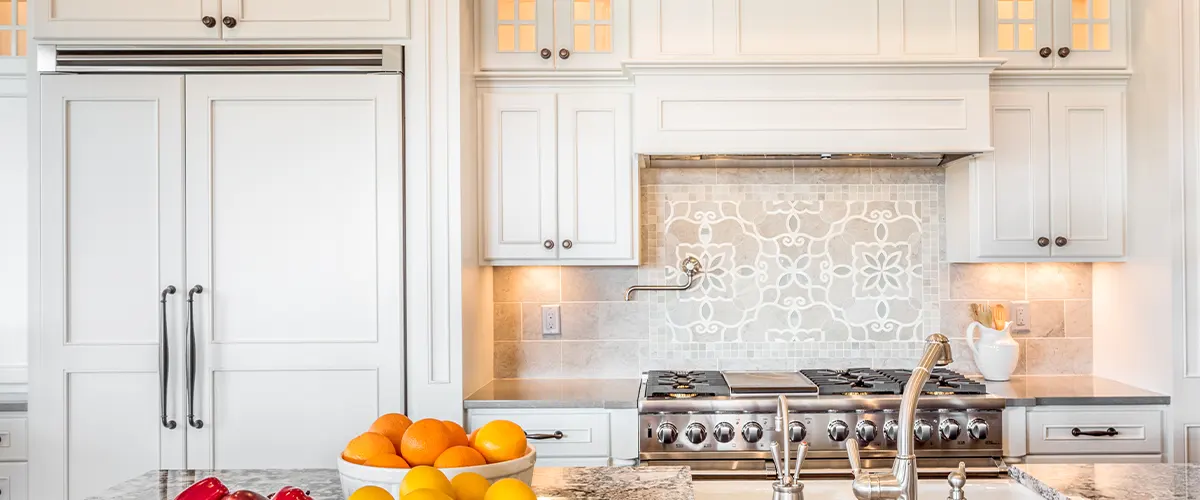 Get Pricing Transparency For Your Kitchen Remodel Cost In Centreville!
Homeowners should anticipate their kitchen remodel costing them around $30k on average. Nevertheless, your total price will contrast depending on the choices you make. The specialists at GiGi Homes & Construction guarantee that you'll get your ideal kitchen while sticking to both your schedule and budget for kitchen remodeling. We offer custom solutions for your particular renovation, and you'll get the most cost-effective results in Manassas.
Stop Delaying And Get Your New Kitchen Today!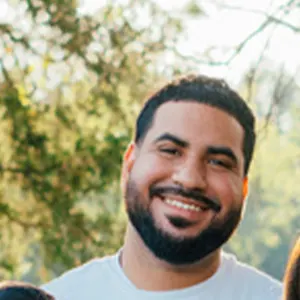 Alex Bautista, owner of GiGi Homes And Construction