Bathroom Remodeling Cost Manassas
Want to learn more about the cost of remodeling a bathroom in Manassas? This guide is all you need!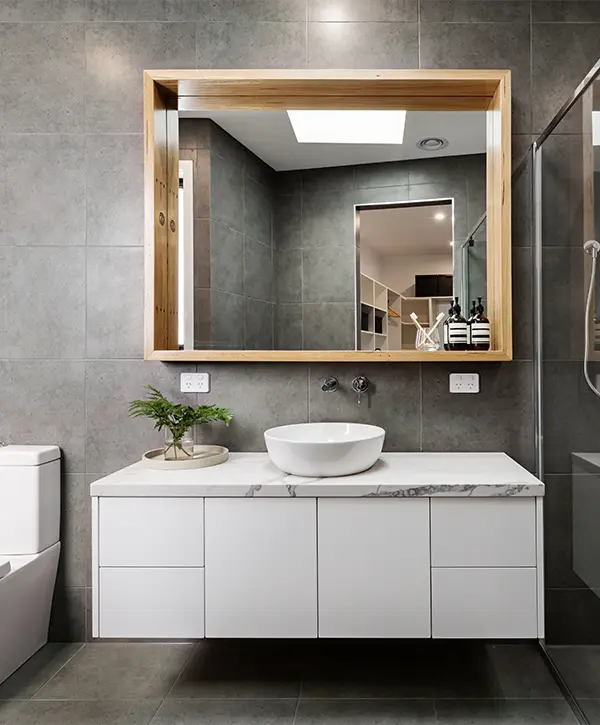 Looking to remodel your bathroom in Manassas? 
GiGi Homes & Construction is here to help. We have years of experience in project management and will work diligently to ensure that your vision for the perfect bathroom becomes a reality.
Customer satisfaction is our top priority, so you can rest assured knowing that we'll always go above and beyond to deliver results that exceed your expectations. Contact us today to get started on bringing new life into your home!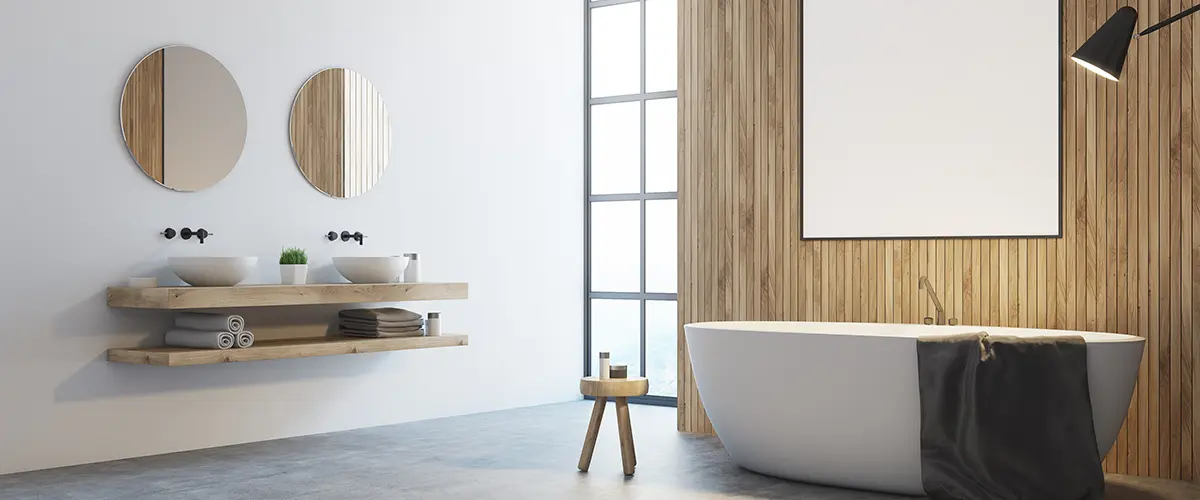 Bring Back The Comfort In Your Bath
The cost of a bathroom renovation in Manassas will fluctuate based on various things, such as the size of the room, the type of materials used, and if any additional features are desired.
Let's see some rough averages for different sizes of baths equipped with various features.
| Size/Category | Economy | Standard | High-End | Luxury |
| --- | --- | --- | --- | --- |
| Small Bathroom (5'x8') | $9k-$12k | $12k–$15k | $15k–$18k | $18k–$22k |
| Average Bathroom (10'x10') | $12k-$16k | $16k–$25k | $25k–$30k | $30k–$35k |
| Large Bathroom (14'x14) | $20k-$25k | $25k-$35k | $35k-$50k | $50k-$80k |
If you're looking for the most affordable and high-quality materials, Gigi Home & Construction is your answer. Our customer service is outstanding and unmatched by any other contractor in Manassas or its surroundings. Check out our bathroom remodeling offer!
Bath Renovation Cost In Manassas By Labor
Averages different professional services during a bathroom remodel: Plumbers, carpenters, electricians, designers, and builders.
Architects are needed for structural improvements such as adding a new wall or removing a load-bearing wall. They're the specialists who make sure your new area is structurally sound and that your project runs on time. 
The average cost of an architect's services varies from $65 to $250 per hour, with 10% to 20% of the total budget as a one-time charge.
If you want to avoid any potential problems and design a bathroom that fits the style of your home, it's best to hire a professional bathroom designer. The price for their services will depend on how experienced they are. 
A designer may cost 10-20% of your total budget for the renovation or a one-time fee of $300-$1500 for consultation.
Plumbers charge between $70 and $150 per hour, depending on the job. They will also charge for supplies above and beyond their labor.
Hiring an expert electrician costs anywhere from $80 to $150 per hour, with various expenses. It's critical that you protect the safety of your home, therefore choosing a professional is the finest alternative.
If you're going to have a custom vanity constructed, we recommend hiring a professional carpenter. Semi-custom or stock cabinets are considerably simpler to come by, so all you'll need is an installer. It costs around $90 per hour to produce cabinets that match your needs, style, and preferences perfectly.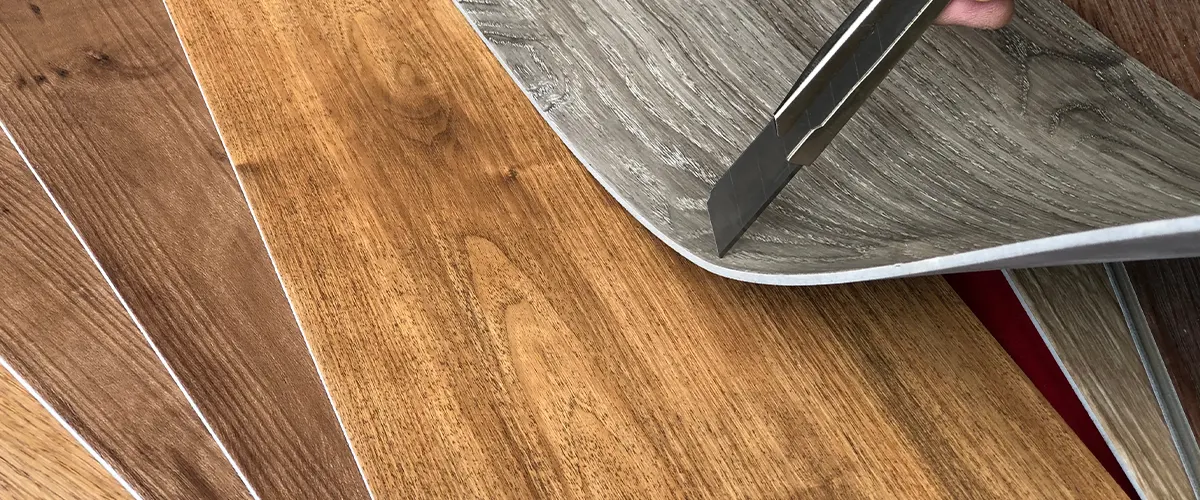 We guarantee you'll be back for more
We have the highest quality in your home, but we're not stopping there.
Working with GiGi Homes & Construction, you'll also get:
Bath Renovation Cost In Manassas By Upgrades
There are a plethora of bathroom remodeling project upgrades available, and each one impacts your bath in a unique way. Some will make your bathroom seem like a five-star Ritz-Carlton hotel, while others will give it an entirely individual feel.
Personalized to your specific needs and desires. We understand how difficult it may be to choose between so many alternatives, therefore we'll walk you through every feasible option and assist you in making the best decision for your new bath. 
The following are some of the most popular bathroom improvements.
Vanities are one of the most popular bathroom upgrades for a reason: they not only make your bathroom more functional but also help set the mood and style. 
For example, a vanity with slab doors and no hardware gives off a modern and minimalistic vibe, while a hardwood vanity makes your bath feel warm and cozy.
Double vanities are perfect for larger families or couples that prefer their own sink. With extra storage space and the ability to fill any empty areas in your bathroom, double vanities provide many benefits.
According to KCMA, semi-custom cabinets bring the most ROI, so they're definitely an option worth considering.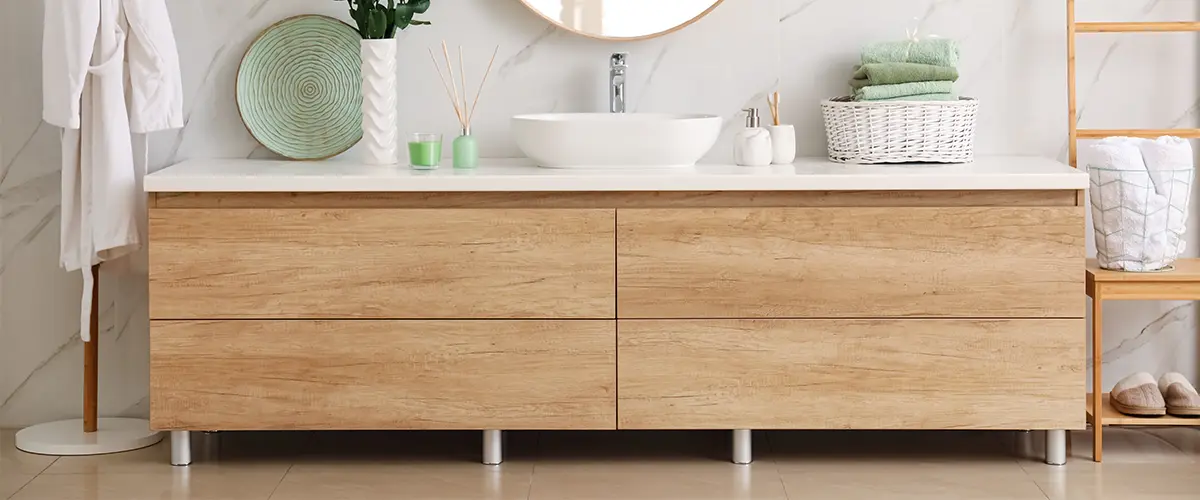 Many of our customers choose to upgrade their old countertops when they get new vanities because most likely, the old ones wouldn't fit and even if they did, they probably wouldn't match.
When perusing different types of bathroom countertops, quartz is definitely the best option—It's resistant to things like water and heat damage as well as is durable and easy to clean. Not to mention that it costs less than natural stone options such as granite or marble.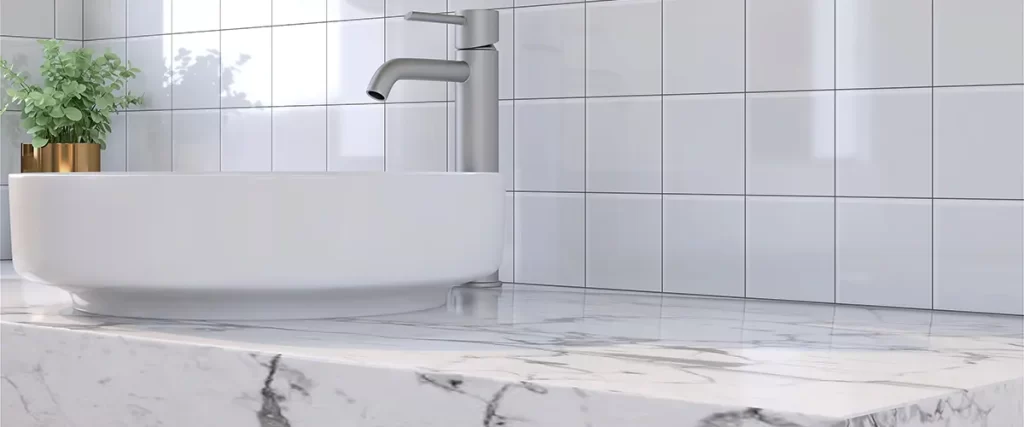 In most rooms, including the bathroom, older homes have hardwood floors. Of course, having a room with so much humidity and water spills is never a good idea. Tile flooring in the bathroom is the greatest alternative. 
Tiles are relatively cheap and provide several benefits to your bath's functionality. Marble slabs for flooring are another option that's more expensive and can add to your bathroom renovation cost. 
Other natural stones may be used as alternatives, but they tend to be more costly to cover an entire floor.
Porcelain tiles are more suited for people who want new flooring because they're less expensive on average ($10-30 per square foot).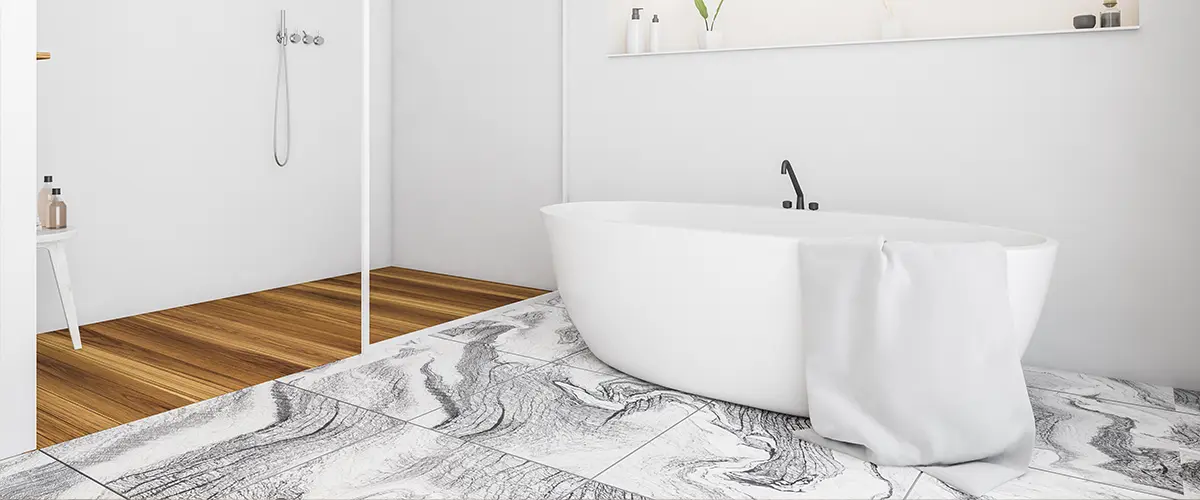 Many of our jobs include a tub-to-shower conversion or the replacement of outdated jacuzzis that are dangerous for older people. As we get older, glass showers become more appealing and accessible. A porcelain or ceramic tile shower enclosure with a transparent glass door provides an excellent shower in your new bathroom.
If you're undecided about whether or not to keep your bathtub, think about what matters most to you as well as the bathroom remodel costs. 
The cost of a glass walk-in shower usually falls between $1,000 and $5,000 on average. This price tag is influenced by the dimensions of the shower and the materials used.
For example, tiling the floor and surrounding material costs more than using a shower pan. As far as tubs go, porcelain is still seen as superior but these come with starting prices at $2k which can even reach $7k in some cases.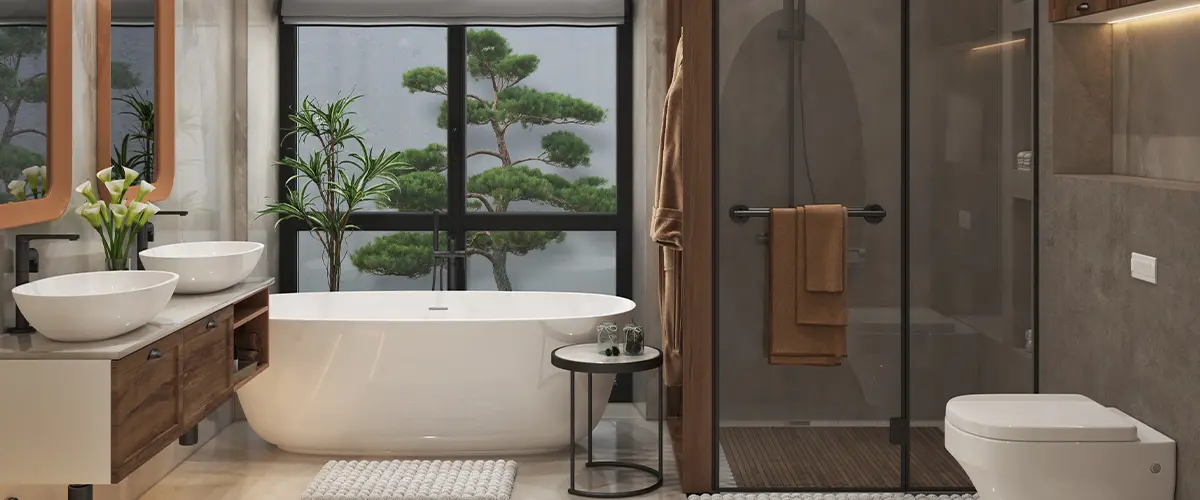 Other Features And Upgrades
Bring Back The Comfort In Your Bath
Your bathroom is where the bulk of your days start and finish. You've assured a good start to your day and a restful conclusion if your bathroom looks fantastic and is completely operational. What happens, though, when your bathroom isn't as wonderful as it used to be?
When it comes to a bathroom remodel in Manassas, we're the go-to for many people in Virginia. GiGi Homes & Construction has helped hundreds of homeowners get their bathrooms back to their former glory.
Get your bathroom remodeled with us! Having a functional and comfortable space is important, especially when it's somewhere you start your day. We're proud to say that many of your neighbors have already got theirs done with us.
Get Full Pricing Transparency For Your Manassas Bathroom Renovations Cost!
The average cost of a bath makeover in Manassas is around $40,000, but the final price will vary based on your needs.
We're dedicated to ensuring the success of your Manassas project, and we'll go out of our way to make sure you have a positive experience working with us. 
Here's what you can expect from us:
Your New Bathroom Awaits You!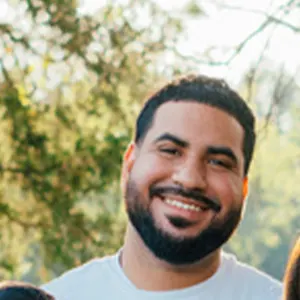 Alex Bautista, owner of GiGi Homes And Construction