Bathroom Remodeling Cost Centreville
If you want to learn more about the cost of remodeling a bathroom in Centreville, you're in the right place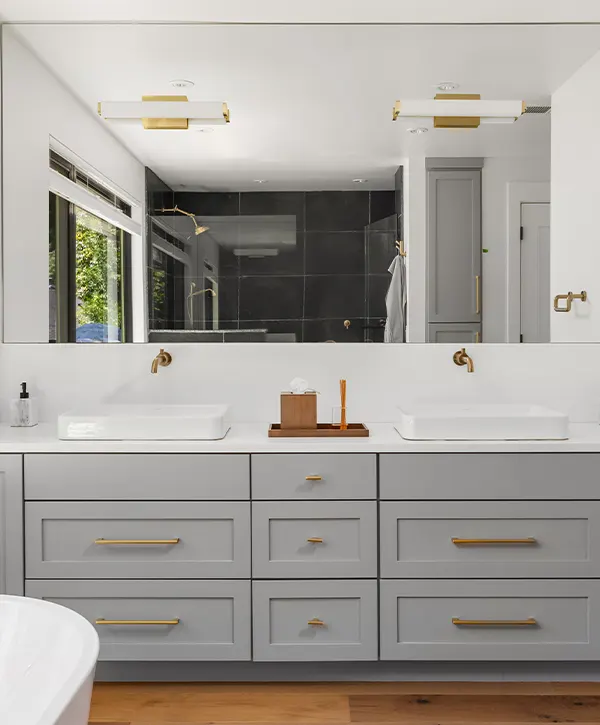 Renovating your bathroom is a substantial home renovation job with a significant influence on your house and daily routine. In fact, according to Zillow, "bathroom remodels offer the highest return on investment in terms of increasing the value of your property." Despite this, one of the most problematic problems that Centreville homeowners confront when renovating their bathrooms is cost.
Our team is dedicated to making your Centreville bathroom renovation project as easy and stress-free as possible, without sacrificing affordability. Your satisfaction is our number one priority, and we won't rest until you're 100% happy with the results.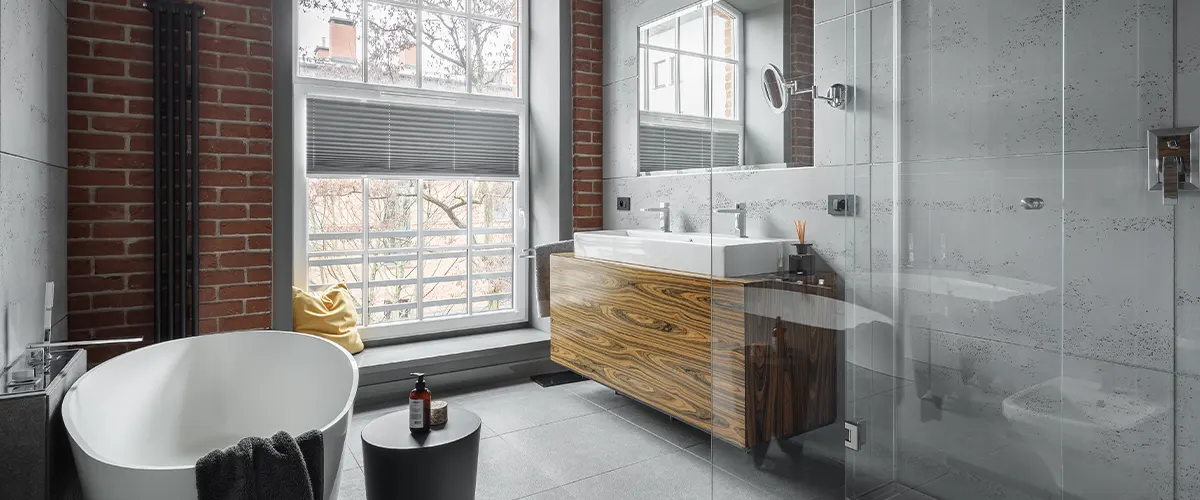 The Typical Bath Remodeling Cost In Centreville
The cost of a bathroom renovation in Centreville will fluctuate based on various things, such as the size of the room, the type of materials used, and if any additional features are desired.
Let's see some rough averages for different sizes of baths equipped.
| Size/Category | Economy | Standard | High-End | Luxury |
| --- | --- | --- | --- | --- |
| Small Bathroom (5'x8') | $9k-$12k | $12k–$15k | $15k–$18k | $18k–$22k |
| Average Bathroom (10'x10') | $12k-$16k | $16k–$25k | $25k–$30k | $30k–$35k |
| Large Bathroom (14'x14) | $20k-$25k | $25k-$35k | $35k-$50k | $50k-$70k |
Bath Renovation Cost In Centreville By Labor
Averages different professional services during a bathroom remodel: Plumbers, carpenters, electricians, designers, and builders.
Architects are needed for structural improvements such as adding a new wall or removing a load-bearing wall. They're the specialists who make sure your new area is structurally sound and that your project runs on time. The average cost of an architect's services varies from $65 to $250 per hour, with 10% to 20% of the total budget as a one-time charge.
If you want to avoid any potential problems and design a bathroom that fits the style of your home, it's best to hire a professional bathroom designer. The price for their services will depend on how experienced they are. A designer may cost 10-20% of your total budget for the renovation or a one-time fee of $300-$1500 for consultation.
Plumbers charge between $70 and $150 per hour, depending on the job. They will also charge for supplies above and beyond their labor.
Hiring an expert electrician costs anywhere from $80 to $150 per hour, with various expenses. It's critical that you protect the safety of your home, therefore choosing a professional is the finest alternative.
If you're going to have a custom vanity constructed, we recommend hiring a professional carpenter. Semi-custom or stock cabinets are considerably simpler to come by, so all you'll need is an installer. It costs around $90 per hour to produce cabinets that match your needs, style, and preferences perfectly.
Homeowners have enough to worry about, so we've created a system that takes care of everything with the click of a button.
Gigi Homes & Construction always keeps you updated on the status of your project by talking frequently with electricians, plumbers, carpenters, designers, and builders. With us overseeing things, you'll never again have to guess what's going on with your bathroom remodeling project.
We provide expert bathroom remodeling services to homeowners in Centreville, and we take pleasure in providing the finest end result to all of our clients. Take a look through our selection and obtain a free quote right now!
Bath Renovation Cost In Centreville By Upgrades
Naturally, the cost of labor is an important factor in any Centreville bath renovation project, but the type of materials and enhancements you choose will influence the final price. Let's have a look at some upgrades and materials that go into a bath and their associated costs.
In order to make your bathroom look more attractive and pleasant, a toilet vanity that matches your style can be beneficial. If you don't have enough storage in your master bathroom, consider utilizing a double vanity. 
A vanity with ornamental features is the perfect choice if you want to create a focal point in a powder room or guest bath. A semi-custom vanity is a way to go if you want the most return on your investment.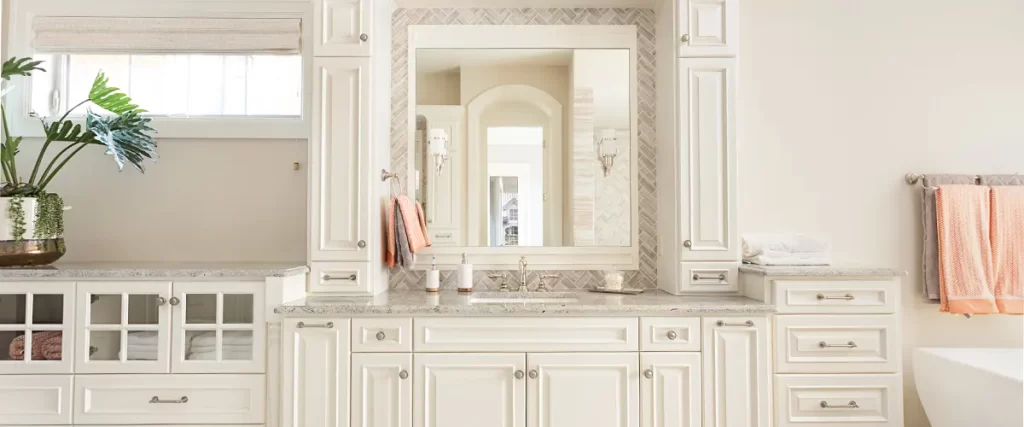 Countertops, particularly if they are attractive and useful, are one of the most essential aspects of any space. They'll have to be low-maintenance or else they'll become more time-consuming than helpful.
Quartz is an excellent choice for a long-lasting countertop. Quartz worktops are created from natural stones. High-quality ones will lack veins and have a smooth, uniform appearance that will enhance the look of your area. They're also the most scratch-resistant countertop material available. A quartz worktop costs between $75 and $100 per square foot.
Advantages of other materials such as granite includes the fact that it is strong, long-lasting, and scratch resistant. The main drawback to using granite in your bathroom is the $40-$60 per square foot price tag..
Marble is another lovely material that may be used to enhance the look of your bathroom. However, because it's a softer natural stone, it isn't as durable as quartz or granite. This beautiful natural stone has a higher price tag: $100 per square foot per piece.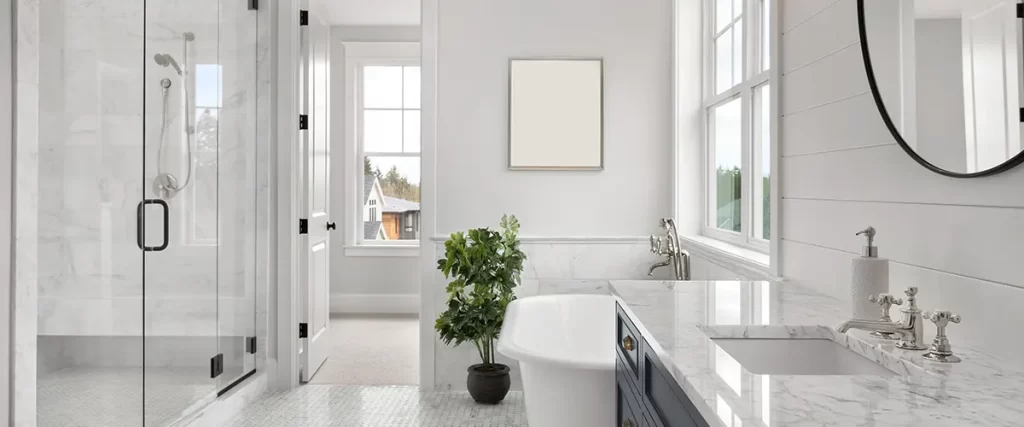 Another popular home renovation is flooring, but it isn't always necessary. If your entire hardwood floor is only slightly damaged, you don't need to replace it. 
Porcelain tiles are more suited for people who want new flooring because they're less expensive on average ($10-30 per square foot).
If you're on a budget, high-quality vinyl flooring and plank is a wonderful choices. The average cost of installing LVT nationally ranges from $800 to $2,400, with most homeowners spending around $1,600 to install 200 square feet of 20 Mil 12″x24″ LVT with a textured stone finish.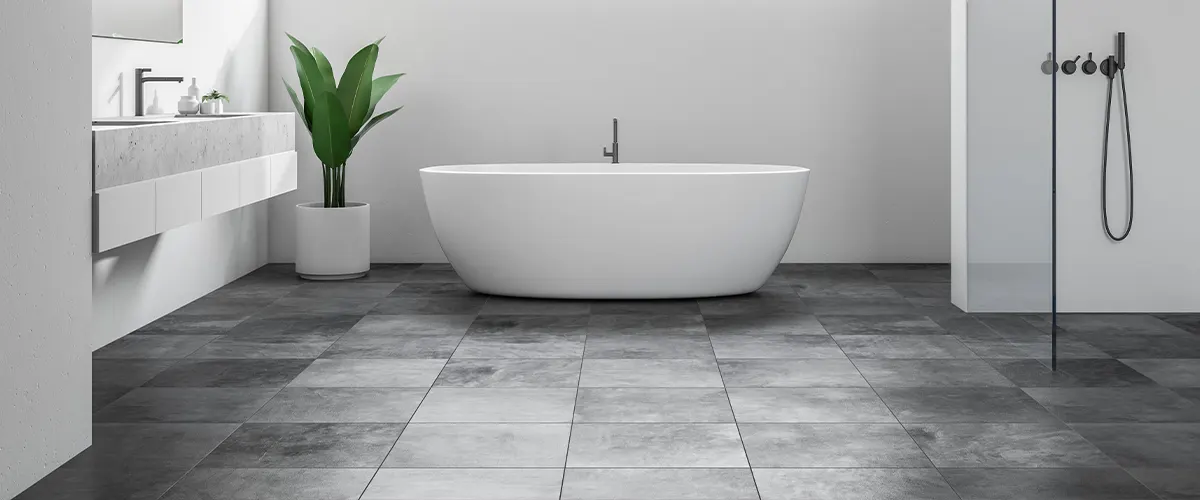 One of the smartest things you can do during a bathroom renovation is to update your old tub to a walk-in shower; however, if you want to uplift both the looks and functionality of your space, adding both a walk-in shower and freestanding tub will do the trick. 
Although this upgrade will raise the total cost of your bathroom renovation in Centreville, you'll enjoy a much better quality of life as result.
The cost of a glass walk-in shower usually falls between $1,000 and $5,000 on average. This price tag is influenced by the dimensions of the shower and the materials used. 
For example, tiling the floor and surrounding material costs more than using a shower pan. As far as tubs go, porcelain is still seen as superior but these come with starting prices at $2k which can even reach $7k in some cases.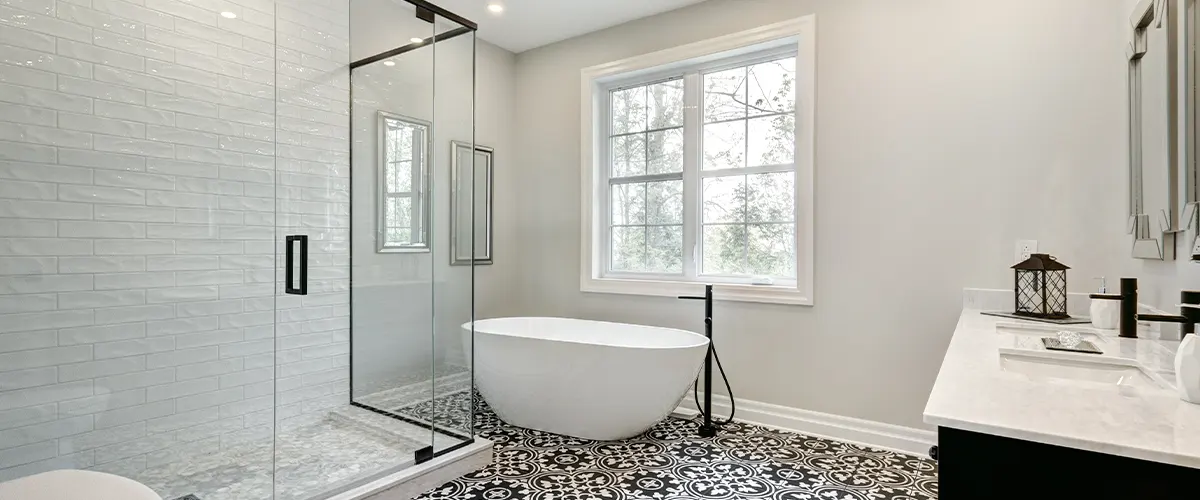 Other Features And Upgrades
Know What You're Paying For
The price you'll pay for your bathroom remodeling in Centreville may be different from past jobs we've completed. Several aspects come into play, such as the size of the room, how much money you're willing to spend, and what style you prefer.
Knowing exactly what you're paying for is critical to receiving the greatest renovation experience and bathroom remodel costs, so don't be hesitant to ask your contractor any questions that come to mind.
Here's a brief explanation of the most frequent bathroom remodeling components and their associated prices.
Get Full Pricing Transparency For Your Centreville Bathroom Renovations Cost!
The average cost of a bath makeover in Centreville is around $40,000, but the final price will vary based on your needs.
We're dedicated to ensuring the success of your Centreville project, and we'll go out of our way to make sure you have a positive experience working with us. Here's what you can expect from us:
Make Your Dream Come True And Get Your New Bathroom Today!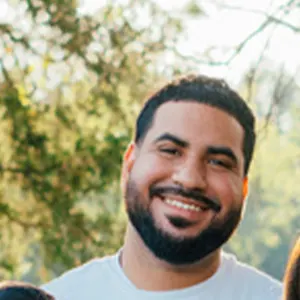 Alex Bautista, owner of GiGi Homes And Construction